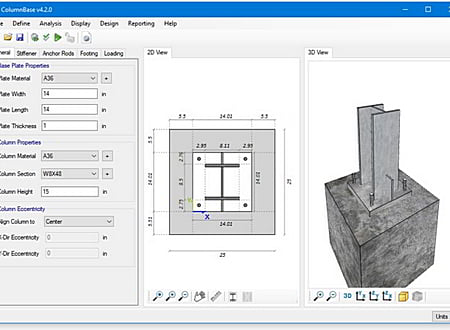 DOWNLOADS :
UserDownloads:

2840
Program Description
ColumnBase is integrated software for analysis and design of column-base connections using three-dimensional finite element modeling.
In steel structures, column-base connections play an important role in transferring loads to the foundation. Due to the complex interactions between various parts of the connection such as the column, base plate, foundation, bolts, stiffeners, and etc, studying the behavior of these connections is a complicated and demanding task. ColumnBase is an innovative software that has been produced to help to solve this difficult task which engineers and structural designers have.
This software uses a three dimensional model of the connection parts (including foundation, column, base plate, grout, stiffeners, etc.) for the finite element analysis and for applying contact modeling analysis to connection parts in simultaneous loading cases. This software analysis the connection model and then checks the analysis results according to designing standards and handbooks.
Why Use ColumnBase Software?
Accurate Design of Base Plate Connections
Design of Base Plate And Anchor Rods for Biaxial Moments
Design of Base Plates For Unlimited Anchor Bolts In Number and Arrangement
Design of Base Plates For Various Arrangement of Stiffeners
Automatic Check/Design of Column-Base Connection According to AISC, ACI & ...
Automatic Check Design of Concrete Footing and even Grout! According to AISC, ACI & ...
Advanced Reporting for Modeling, Analysis Results and Design Results In the XPS and PDF formats
ColumnBase features in overview:
High Accuracy in Prediction of Actual Behavior of Connection
High Speed and Ability in Process
No Limit in Simultaneous Loadings
Predesigned Database and Supporting Various Systems of Units
Design of Connection Parts According to Design Handbooks and Standards
Visual and User-friendly Interface
* ColumnBase download link provides demo version of the software.
Similar Software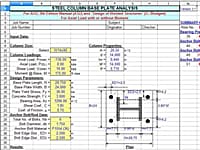 Steel Column Base Plate Analysis per AISC 9th Ed
BASEPLT9 is a spreadsheet program written in MS-Excel for the purpose of analysis of steel column base plates.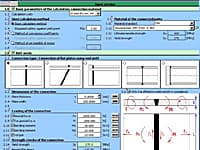 Design and strength control of statically loaded welded connections
MITCalc Welded Connections is intended for the geometrical design and strength control of statically loaded welded connections of machine structures manufactured from carbon steels.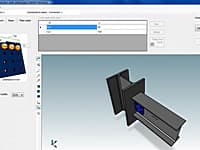 Analysis and design of steel connections
EC PRAXIS 3J is an entirely new software application, for the analysis and design of steel connections according to EC3.
BridgeLink
Version:6.0 · Washington State Department of Transportation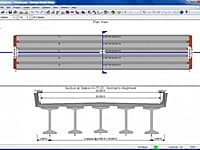 Integrated Bridge Engineering Design, Analysis, and Load Rating
BridgeLink is an integrated bridge engineering software tool for analysis, design, and load rating.
RISABase
Version:2.1 · RISA Technologies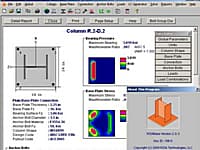 Base Plate and Anchor Bolt Design
RISABase is a handy application that is designed to help structural engineers to analyze the behavior of complex base plate and anchor bolt models.
Comments & Reviews
Submit a review about ColumnBase software with your social media profile