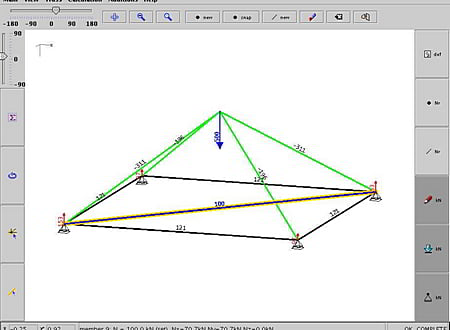 Platform:
Windows / Linux / Mac
License :
GNU General Public License
Downloads :
UserDownloads:

369
Fachwerk3D is the spatial version of the program Fachwerk. It is aimed at structural engineers who analyse and design reinforced concrete structures. It intends to simplify the application of discontinuous stress fields and strut-and-tie models.
The program calculates strut-and-tie models. It only uses equilibrium conditions. Thus, unlike common programs, it does not assume elastic material behaviour.
If the modelled system is statically indeterminate, Fachwerk3D will nevertheless calculate the forces of the members that are determinate. One can assign forces to the remaining members. If more forces than needed to accomplish a statically determinate system are assigned to members, and the equilibrium condition is not fulfilled, Fachwerk3D will indicate that the system is inconsistent.
Easy to use graphical user interface. The model can be easily viewed from different sides. Get used to the program quickly.
Just set the member forces in statical indeterminate models. You don't have to assign any member stiffness.
Failure mechanisms are detected and drawn. That way it is easy to find missing members in the model or to prove that a system is kinematic and contradicts equilibrium.
No unnecessary bearings or members are required. Fachwerk3D allows instable (kinematic) models, as long as equilibrium is fulfilled. This feature is espetially useful for spatial models.
Runs on every platform which runs Java
Similar Software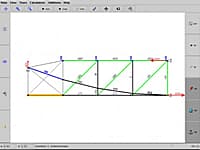 Discontinuous stress fields and strut-and-tie models
Fachwerk is aimed at structural engineers who analyse and design reinforced concrete structures.
ShortCol
Version:2014.1 · Yakov Polyakov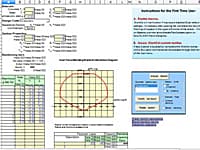 Investigation Of Reinforced Concrete Column Section
ShortCol computes ultimate strength of reinforced concrete column subjected to combined axial force and bending moment.
SHAPE‑MASSIVE determines section properties of any thick-walled cross‑section and calculates the stresses.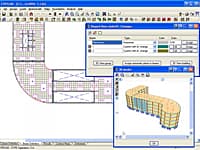 Architecture, Engineering and Construction
CYPECAD was brought about to carry out the analysis and design of reinforced concrete and steel structures, subject to horizontal and vertical forces, for houses, buildings and civil work projects.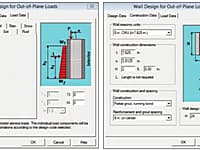 The SMDS software is a component software package specifically designed to engineer masonry.
Comments & Reviews
About Fachwerk3D
No comments yet. Be the first to comment.
Submit a review using your Facebook ID