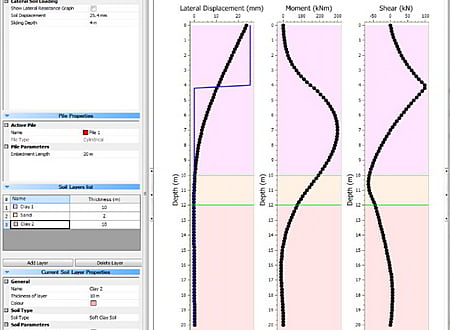 DOWNLOADS :
UserDownloads:

667
RSPile is a program for the calculation of the axial load capacity of driven piles and the analysis of piles under lateral loading. Pile resistance functions can be imported from RSPile into Slide for slope stability analyses.
RSPile can be used for the analysis of both laterally and axially loaded piles. A Lateral Resistance Function (multiple soil movement cases) can be plotted, and RSPile has extensive results viewing and report generation capabilities.
* RSPile download link provides trial version of the software.
Similar Software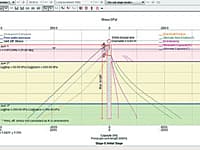 Pile Load Capacity, Settlement and Surrounding Ground Displacement
Pile calculates the vertical load carrying capacities and vertical settlements of a range of individual piles in a layered soil deposit.
PILEGRP
Version:3.6 · Alex Tomanovich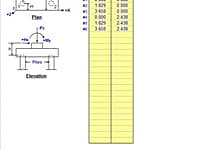 Pile Group Analysis for a Rigid Pile Cap/Mat
PILEGRP is a spreadsheet program written in MS-Excel for the purpose of analysis of pile groups with rigid caps using the elastic method.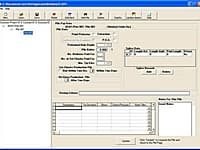 Fast and Efficient Manner of Entering Pile Data
Pile Technician was developed for the FDOT to provide a fast and efficient manner of entering Pile data to calculate payment for work preformed by the contractor.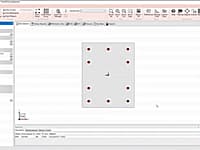 Cracked Analysis and Capacity Of R/C Shapes
ConcreteSection helps engineers to understand the cracked behavior and load capacity of custom reinforced concrete sections.
APILE
Version:2018 · Ensoft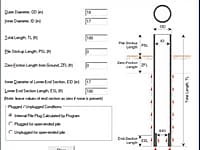 Analysis of the Axial Capacity of Driven Piles
APILE is used to compute the axial capacity, as a function of depth, of a driven pile in clay, sand, or mixed-soil profiles.
AllPile
Version:7.19 · CivilTech Software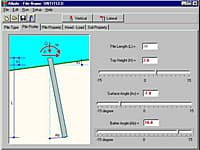 AllPile is a Windows-based analysis program that handles virtually all types of piles, including steel pipes, H-piles, pre-cast concrete piles, auger-cast piles, drilled shafts, timber piles, jetted piles, tapered piles, piers with bell, micropiles (minipiles), uplift anchors, uplift plate, and shallow foundations.
Comments & Reviews
About RSPile
No comments yet. Be the first to comment.
Submit a review using your Facebook ID