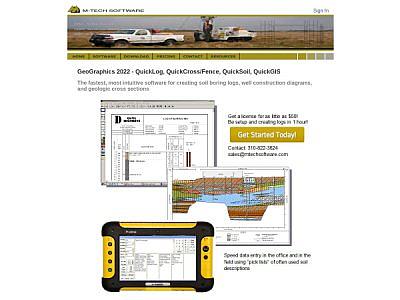 Quickly create logs in the field or the office: well log, borehole log, boring log, cross section, petroleum, geology software.
CESDb currently lists 2 software developed by M-Tech Software, including Geotechnical Graphics, GW Assist.
You can also visit developers official website http://mtechsoftware.com for software support, product updates, licenses and other information.
Software by M-Tech Software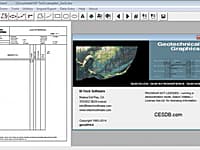 QuickLog, QuickCross/Fence, QuickGIS, QuickSoil
The four modules, QuickLog, QuickCross/Fence, QuickGIS, and QuickSoil are contained in one integrated application called Geotechnical Graphics or GeoGraphics for short.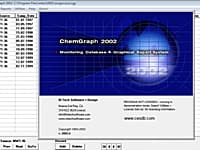 Groundwater Assist & ChemGraph
Groundwater Assist extracts pertinent groundwater data from raw lab data files and adds it to historical data in Excel tables or other types of databases. ChemGraph is an Access database and report writer.
Similar Software From Other Developers
SO-Log
Version:1.2 · Soil Office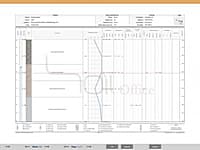 Geotechnical Engineering Boring Logs
SO-Log generates boring logs as a means to summarize and report several tests performed within a geotechnical engineering project.
Strater
Version:5.7 · Golden Software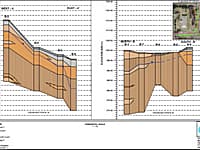 Strater is a powerful and innovative well log, borehole and cross section plotting software package for geoscientists.
SuperLog
Version:4.2 · CivilTech Software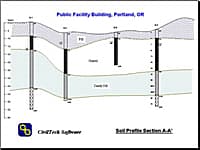 Boring Log and Test Pit Graphical Reports
SuperLog generates boring log and test pit graphical reports for field drilling and geotechnical investigations. It is a user-friendly, easy to learn, powerful, and flexible program, which will increase your productivity significantly.
NovoLAB
Version:4.0 · Novo Tech Software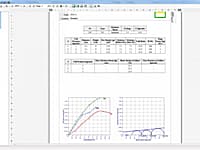 Soil Mechanics Log Drafting and Lab Test
NovoLAB is the most comprehensive geotechnical software for lab data management and borehole log drafting.
WinLog
Version:4.0 · GAEA Technologies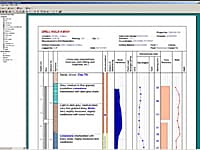 Boring, Borehole and Well Logs
The WinLoG extension module of GaeaSynergy can be used to quickly and easily create, edit and print boring logs, borehole logs and well logs for a variety of industries.