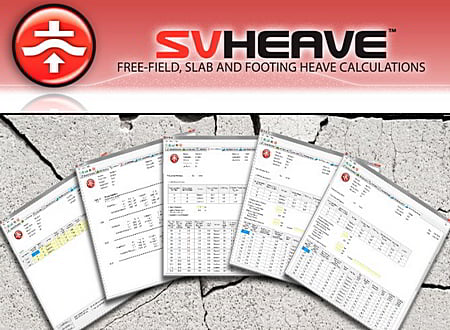 DOWNLOADS :
UserDownloads:

244
Legacy Software Notice:
Please be advised that SVHEAVE is considered outdated or legacy, and it has reached the end of its support and update cycle. As a result, compatibility issues may arise, and its functionality cannot be guaranteed on modern computer systems.
Program Description
SVHEAVE has recently been added to our expanding line of world-class software products. SoilVision Systems Ltd. has collaborated on this joint development project with USA-based Engineering Analytics, Inc. to bring this tool to the marketplace.
SVHEAVE is a modeling tool that simplifies the calculation of soil heave for swelling clays. Free-field, slab and footing heave results are easily obtained with the input of soil data and footing design parameters. An easy-to-use graphical user interface allows geotechnical engineers to simulate a wide variety of situations common to industry practice.
SVHEAVE calculates heave based on oedometer-test-based methods. The user chooses the method of heave prediction from the following three methods:
Fredlund (1983) Method
Nelson and Chao (2014) Method
US Army Corps of Engineers (1983) Method
Slab heave is the amount of heave that the ground surface will experience due to wetting of the soils with little to no surface load applied. Pavement represents a similar low-load condition and heave computations are identical to those for slabs. Computations for footing heave are similar to those for slab heave, except that the final net normal stress is equal to the overburden stress plus the stress applied by the footing. SVHEAVE uses the simplified 2:1 method to estimate the increased stress at depth due to the footing load.
The software is designed to allow geotechnical engineers and other soils professionals to easily calculate heave profiles for a variety of soil profiles. Various design strategies on heave (e.g., different depths of overexcavation, different footing loads) can be easily compared.
* SVHEAVE download link provides demo version of the software.
Similar Software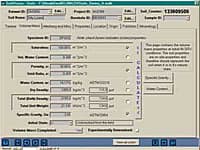 Database System for Saturated / Unsaturated Soil Properties
SoilVision is a knowledgebase database system for saturated, unsaturated soil properties from sources all over the world.
SVOFFICE
Version:2009 · SoilVision Systems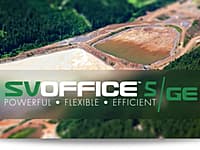 Geotechnical and Geoenvironmental Applications Suite
SVOFFICE suite offers a geotechnical and geoenvironmental applications focus and is well suited for solving complex flow and contaminant transport models.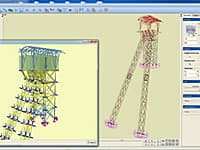 Static Calculations and Dimensioning of Planar and Spatial Bar Systems
The R3D3-Rama 3D program is designed for construction engineers. It is used for static calculations and dimensioning of planar and spatial bar systems.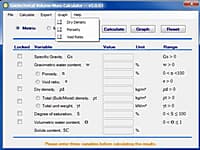 Calculate Basic Volume-Mass Properties
Geotechnical Volume-Mass Calculator provides the user the ability to calculate all of the basic volume-mass (VM) properties when three VM properties are known and to graph the VM relationships of the soil.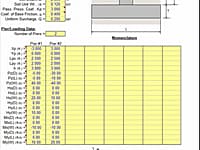 Rectangular Spread Footing Analysis
FOOTINGS is a spreadsheet program written in MS-Excel for the purpose of analysis of rigid rectangular spread footings with up to 8 total piers, and for either uniaxial or biaxial resultant eccentricities.
Comments & Reviews
Submit a review about SVHEAVE software with your social media profile