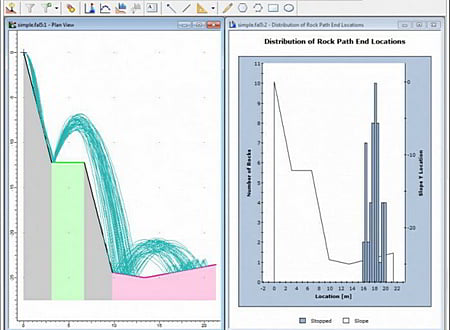 DOWNLOADS :
UserDownloads:

1940
Program Description
RocFall is a statistical analysis program designed to assist with assessment of slopes at risk for rockfalls. Energy, velocity and "bounce height" envelopes for the entire slope are determined by the program, as is the location of rock endpoints. Distributions of energy, velocity and bounce-height are also calculated along the slope profile; Distributions can be graphed and comprehensive statistics are automatically calculated.
RocFall can also assist in determining remedial measures: the material properties of each slope segment can be changed allowing for comparison of results. Information about the kinetic energy and location of impact on a barrier can help determine the capacity, size and location of barriers. RocFall also provides commercial barrier information. Users can define a custom barrier, or select one of the pre-defined barriers.
* RocFall download link provides trial version of the software.
Similar Software
Dips
Version:8.0 · Rocscience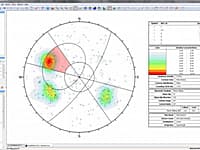 Graphical and Statistical Analysis of Orientation Data
Dips is designed for the interactive analysis of orientation based geological data.
HEC-SSP
Version:2.2 · Hydrologic Engineering Center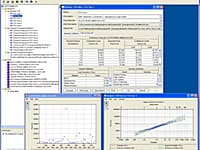 Statistical Analyses Of Hydrologic Data
Statistical Software Package (HEC-SSP) developed by the Hydrologic Engineering Center. This software allows you to perform statistical analyses of hydrologic data.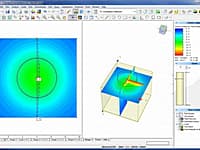 Settlement and Consolidation Analysis
Settle3D is a 3-dimensional program for the analysis of vertical consolidation and settlement under foundations, embankments and surface loads.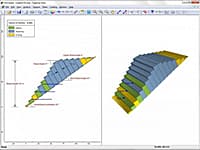 RocTopple is an interactive software tool for performing toppling analysis and support design of rock slopes.
RSPile
Version:3.0 · Rocscience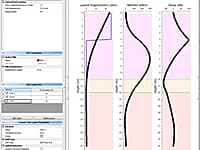 RSPile is a program for the calculation of the axial load capacity of driven piles and the analysis of piles under lateral loading.
Comments & Reviews
Submit a review about RocFall software with your social media profile