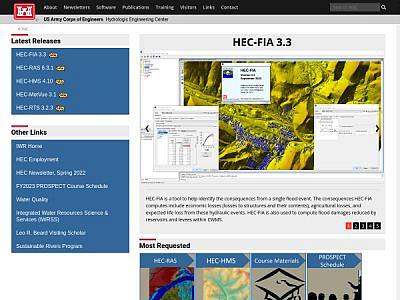 The official public website of the Hydrologic Engineering Center, U.S. Army Corps of Engineers
CESDb currently lists 9 software developed by Hydrologic Engineering Center, including HEC-RAS, HEC-HMS, HEC-SSP, HEC-ResSim, HEC-FIA, HEC-ResPRM.
You can also visit developers official website https://hec.usace.army.mil for software support, product updates, licenses and other information.
Software by Hydrologic Engineering Center
The Ecosystem Functions Model (HEC-EFM) is designed to help study teams determine ecosystem responses to changes in the flow regime of a river or connected wetland.
Flood Damage Reduction Analysis
The Flood Damage Reduction Analysis (HEC-FDA) software provides the capability to perform an integrated hydrologic engineering and economic analysis during the formulation and evaluation of flood risk management plans.
The HEC-FIA Flood Impact Analysis software package analyzes the consequences from a flood event.
The Hydrologic Modeling System (HEC-HMS) is designed to simulate the complete hydrologic processes of dendritic watershed systems.
HEC-RAS is designed to perform one-dimensional hydraulic calculations for a full network of natural and constructed channels.
HEC-ResPRM is a reservoir system operations optimization software package developed to assist planners, operators, and managers with reservoir operation planning and decision-making.
The Reservoir System Simulation (HEC-ResSim) software is used to model reservoir operations at one or more reservoirs for a variety of operational goals and constraints.
The Regime Prescription Tool (HEC-RPT) is designed to facilitate entry, viewing, and documentation of flow recommendations in real-time, public settings.
Statistical Analyses Of Hydrologic Data
Statistical Software Package (HEC-SSP) developed by the Hydrologic Engineering Center. This software allows you to perform statistical analyses of hydrologic data.