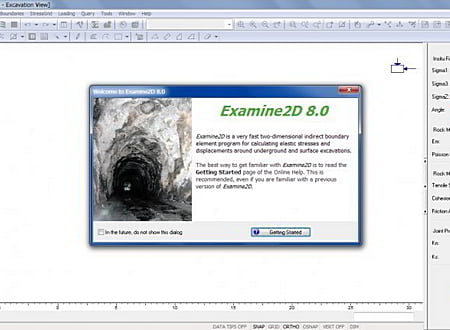 Last Update :
20 September 2013
License :
Free for non-commercial use
Downloads :
UserDownloads:

265
Examine2D is a very fast two-dimensional indirect boundary element program for calculating stresses and displacements around underground and surface excavations in rock. Unlike the Finite Element and Finite Difference methods, the boundary element method only requires meshing around the excavation boundaries, eliminating the need for complex volume mesh generation.
Examine2D provides an integrated graphical environment for data entry and visualization. A CAD based modeler allows for point and click geometry input and editing. Popup windows allow for easy entry and modification of model parameters.
The simple editing tools provide a convenient method for performing parametric studies. The graphical data interpreter offers a rich set of tools for the convenient display of model results. With Examine2D you can quickly create and mesh a model, perform a stress analysis, and interpret the results.
Similar Software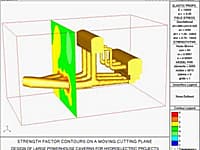 3D Engineering Analysis for Underground Excavations
Examine3D is an engineering analysis program for underground excavations in rock.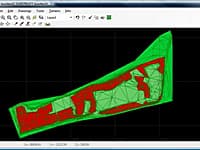 Create, Edit and Visualize in 3d Space Digital Terrain Models
In FastTerrain you are able to create, edit and visualize in 3D space digital terrain models.
Settlement and Consolidation Analysis
Settle3D is a 3-dimensional program for the analysis of vertical consolidation and settlement under foundations, embankments and surface loads.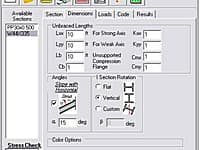 Analysis of steel beams subjected to combined bending and axial loading
Steel-Beam is a user-friendly robust program that allows the combined stress evaluation of steel beams and steel columns under combined axial and flexural loads.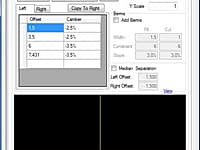 Earthwork Volume/Quantity Calculating
AEC CutFill is a powerful and flexible earthwork cut and fill calculation software program.
Comments & Reviews
About Examine2D
No comments yet. Be the first to comment.
Submit a review using your Facebook ID