DOWNLOADS :
UserDownloads:

170
TcpMDT allows you to model a terrain using points captured by any total station or GPS, generate contours, get profiles and cross-sections, calculate volumes by grids or profiles difference and display 3-D views. 
The Standard Version is suitable for carrying out all kinds of topographical survey projects, terrain profiles, volume calculations etc. Its main users are public administrations, construction companies, engineering, architecture and town planning studies and companies involved in earthworks, running quarries, mining, the environment etc. as well as free-lance professionals.
It is very easy to operate and affords high performance as well as working with a wide variety of CAD system versions, facilitating the exchange of information between users by means of DWG format drawings.
It demonstrates great versatility through the import and export of files in the most common formats on the market, including generic LandXML and KML, and generation of results as text, HTML, Word, Excel and PDF.
It provides periodic notification of the improvements and updates available, showing the list of changes and allowing them to be installed at the chosen time.
* TcpMDT download link provides trial version of the software.
Similar Software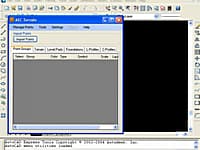 Create Digital Elevation Model from AutoCAD
AEC Terrain is designed to simplify terrain management and 3D-modeling.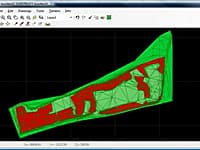 Create, Edit and Visualize in 3d Space Digital Terrain Models
In FastTerrain you are able to create, edit and visualize in 3D space digital terrain models.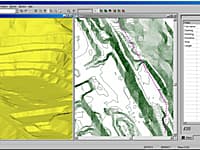 Surveying, Mapping and Terrain Modeling
Terrain Tools 3D is a software toolkit for mapping, terrain modelling and land development.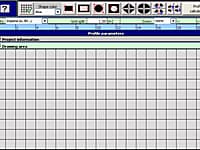 Profiles Static Characteristics
MITCalc Profiles solves area characteristics of common profiles and mass characteristics of solids created by drawing or rotation of the profile.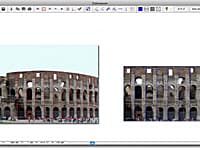 Architectural Surveys, Mapping and Photogrammetry.
DigiCad 3D is an excellent tool for dealing with images, drawings, photographs of building, regular or irregular surfaces and maps.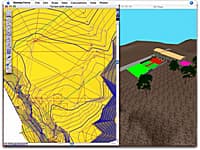 Surveys, Land Modeling, Landscape
Nonio C is a program for modeling large topographic and cartographic surveys using triangles, contour lines, slope charts, color shading, sections, and three-dimensional views.
Comments & Reviews
About TcpMDT
No comments yet. Be the first to comment.
Submit a review using your Facebook ID