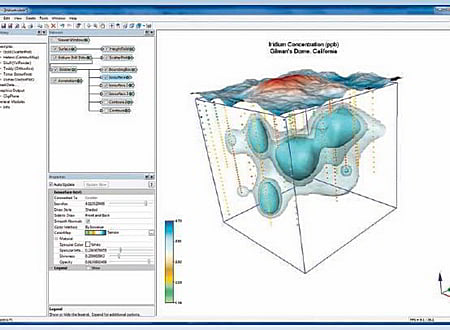 Last Update :
23 October 2014
Downloads :
UserDownloads:

632
Create powerful, fast, customized 3D images of your data with Voxler 2. Easily import data in a multitude of file formats to create stunning graphics to explore the relationships in your data set. This robust, yet easy-to-use program gives you the power to display your data in a variety of formats and colors, capture video animation of your moving model, and select from several image and data export options.
The researchers can use Voxler for
Geoscientists studying seismic data, drill holes, petrography, and remote sensing surveys 
Environmental Professionals analyzing groundwater and soil contaminant studies 
Meteorologists compiling atmospheric studies 
Oceanologists evaluating water temperature, contaminants, and salinity surveys 
Biologists conducting organism sampling
Bio-Technicians visualizing confocal microscopy data 
Engineers showing parameters distributed throughout the volume of an object 
Engineers requiring visualization of computational fluid dynamics 
Research and Development Groups performing numerical simulations 
Geo-Statisticians illustrating reservoir characterizations 
Seismologists modeling velocity 
Physicists tracking particles
GIS Researchers mapping subsurfaces
Medical Professionals analyzing MRI, CT, and ultrasound scans 
Anyone desiring to see the distribution of 3D dat
Similar Software
Grapher
Version:11 · Golden Software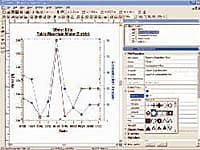 Grapher is the only graphing program you will ever need. Create powerful stunning graphs quickly and efficiently. Ideal for scientists, engineers, and business professionals.
Surfer
Version:12 · Golden Software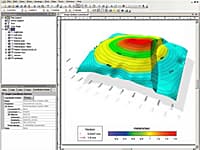 Golden Softwares Surfer software is a full-function 3D visualization, contouring and surface modeling package that runs under Microsoft Windows.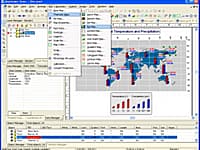 Thematic Maps & Spatial Analysis
MapViewer is an affordable mapping and spatial analysis tool that allows you to easily produce publication-quality thematic maps
Strater
Version:4 · Golden Software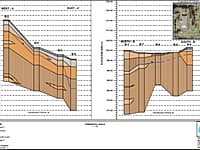 Strater is a powerful and innovative well log, borehole and cross section plotting software package for geoscientists.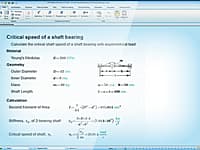 Solving & Analyzing Engineering Calculations
PTC Mathcad is the industry standard software for solving, analyzing, and sharing your most vital engineering calculations.
Comments & Reviews
About Voxler
No comments yet. Be the first to comment.
Submit a review using your Facebook ID