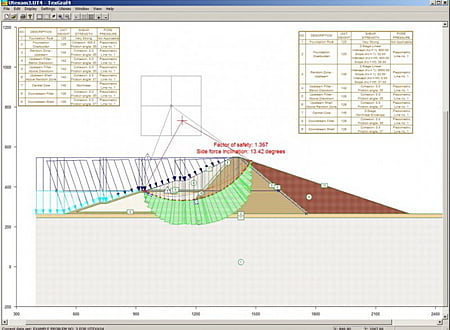 Last Update :
13 September 2012
Downloads :
UserDownloads:

229
UTexas4 is a computer software application for computing the stability of earth and earth-rock slopes and embankments. UTEXAS4 has been written and is maintained by Dr. Stephen G. Wright of Shinoak Software, who is well-recognized as one of the leading experts in solving problems in soil strength and slope stability (Duncan and Wright, 2005).
UTexas4 has been considered one of the most sophisticated commercial software available to study the stability of slopes using a two-dimensional, limit-equilibrium method. The program has been widely used by the US Army Corps of Engineers and US Federal Highway Administration.
UTexas4 features unique random techniques for generation of potential failure surfaces for subsequent determination of the most critical surfaces and their corresponding factors of safety. The factor of safety is defined with respect to shear strength, i.e. the factor of safety is the ratio of the soil shear strength to the equilibrium shear stress. Values of the factor of safety at or less than unity are considered to represent instability and failure of the slope.
Similar Software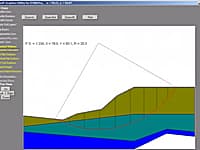 Computations of Slope Stability
STABLPRO has been developed specifically for users to ease their modeling process and to enhance the graphical observation of slope boundaries and critical slip surfaces.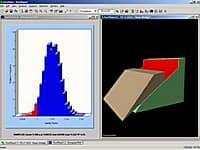 Planar Sliding Stability Analysis for Rock Slopes
RocPlane is an interactive software tool for performing planar rock slope stability analysis and support design.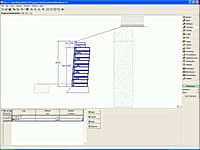 The program Redi Rock wall is used to design and check a retaining walls made from blocks produced by Redi-Rock, Inc (USA).
Trench
Version:2012 · Deep Excavation LLC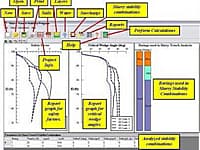 Evaluate the stability of bentonite slurry trenches and panels
Trench is a user friendly, affordable, and versatile software program that evaluates the stability of slurry supported trenches and panels for 2D and 3D analyses.
Slide
Version:6.0 · Rocscience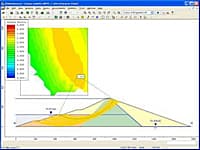 2D Limit Equilibrium Slope Stability Analysis
Slide is the most comprehensive slope stability analysis software available, complete with finite element groundwater seepage analysis, rapid drawdown, sensitivity and probabilistic analysis and support design.
Comments & Reviews
About UTEXAS
No comments yet. Be the first to comment.
Submit a review using your Facebook ID