CESDb
> Software > Tieback
AllPile
Version:7.19 · Downloads:1697
AllPile is a Windows-based analysis program that handles virtually all types of piles, including steel pipes, H-piles, pre-cast concrete piles, auger-cast piles, drilled shafts, timber piles, jetted piles, tapered piles, piers with bell, micropiles (minipiles), uplift anchors, uplift plate, and shallow foundations.
Phase2
Version:9.0 · Downloads:282
Finite Element Analysis for Excavations and Slopes
Phase2 is a powerful 2D elasto-plastic finite element stress analysis program for underground or surface excavations in rock or soil.
PYWALL
Version:3.0 · Downloads:221
Analysis of Flexible Retaining Walls
PYWALL considers soil-structure interaction by using a beam-column model and can analyze the behavior of a flexible retaining wall or soldier-pile wall with or without tiebacks or bracing systems.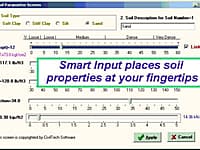 Shoring, EarthPres, Surcharge, and Heave
Shoring Suite is a software package that contains 4 Modules: Shoring, EarthPres, Surcharge, and Heave. These modules are sophisticated design and analysis tools developed by experienced engineers and professors.
Slide
Version:6.0 · Downloads:294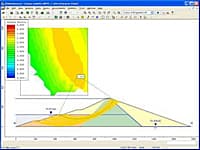 2D Limit Equilibrium Slope Stability Analysis
Slide is the most comprehensive slope stability analysis software available, complete with finite element groundwater seepage analysis, rapid drawdown, sensitivity and probabilistic analysis and support design.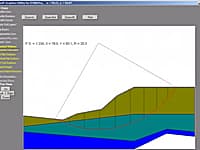 Computations of Slope Stability
STABLPRO has been developed specifically for users to ease their modeling process and to enhance the graphical observation of slope boundaries and critical slip surfaces.
You are on page 1 of 1
First Page