CESDb
> Software > Q-w Curve
APILE
Version:2014 · Downloads:46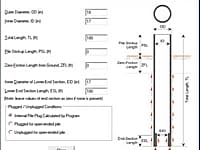 Analysis of the Axial Capacity of Driven Piles
APILE is used to compute the axial capacity, as a function of depth, of a driven pile in clay, sand, or mixed-soil profiles.
GROUP
Version:2014 · Downloads:260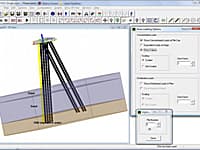 Analysis of 3D Pile Groups Under Combined Loadings
GROUP has been well accepted as an useful design tool for analyzing the behavior of piles in a group subjected to both axial and lateral loadings.
PileAXL
Version:2014 · Downloads:240
Behaviour Of Single Piles Under Axial Loading
PileAXL is a program that analyzes the behaviour of single piles under axial loading applied at the pile head for both onshore and offshore engineering problems.
PileROC
Version:2014 · Downloads:113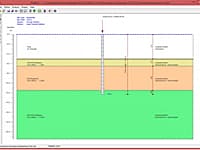 Design and Analysis for Rock Socket under Axial Loading
PileROC is a program that predicts the load settlement curve at the pile head for the piles socketed into rock based on three commonly-used methods.
TZpile
Version:2014 · Downloads:229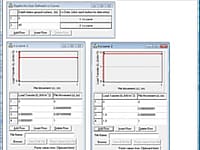 Computation of Load-Settlement Relationships of Vertically-Loaded Piles
TZPILE implements the well-known method of soil-structure interaction, commonly called the t-z method, where t-z and Q-w curves are used respectively for load transfers in side resistance and end bearing.
You are on page 1 of 1
First Page