CESDb
> Software > Field Data
AllPile
Version:7.19 · Downloads:1697
AllPile is a Windows-based analysis program that handles virtually all types of piles, including steel pipes, H-piles, pre-cast concrete piles, auger-cast piles, drilled shafts, timber piles, jetted piles, tapered piles, piers with bell, micropiles (minipiles), uplift anchors, uplift plate, and shallow foundations.
Drafting of Boring and Well-Completion Logs
BorinGS is a software for drafting boring logs and well-completion logs. BorinGS gives you high quality output with customizable columns, hatch patterns, and page layouts.
Enter Soil Boring Log Data Using iPad
Enter soil boring log data right on your iPad using BorinGS. BorinGS for your iPad combines the ease you enjoy using the desktop version with the portability of your iPad.
Seer3D
Version:2.09 · Downloads:249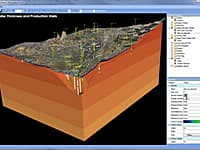 Visualization of Field Measurement Data and Groundwater Model Results
Seer3D is an application for the visualization of field measurement data and the groundwater model results. It includes powerful tools for displaying vector and raster maps, presenting wells, boreholes, lithological, and geophysical data.
You are on page 1 of 1
First Page