CESDb
> Software > Bolted Connection
Analysis and Design of Reinforced Concrete & Steel Structures
Advance Design is a complete integrated analysis / design software dedicated to engineers.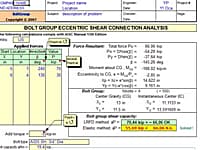 Eccentrically Loaded Bolt Group Shear Capacity
BoltGroup computes shear capacity of an eccentrically loaded bolted connection using LRFD instantaneous center of rotation method.
MITCalc Bolted Connections is designed for a geometrical design and strength check of a prestressed bolt connection, loaded by static or cyclic loading resp. , acting both in the axis of the bolt and in the plane of the connected parts.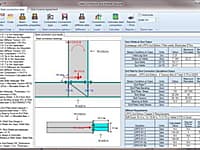 Design And Evaluate Steel Connections
Steel-Connect is a user friendly affordable software steel connection design aid for the typical structural engineer. Typical steel connections can be designed in less time using the autodesign feature or user specified steel connections can be investigated.
You are on page 1 of 1
First Page