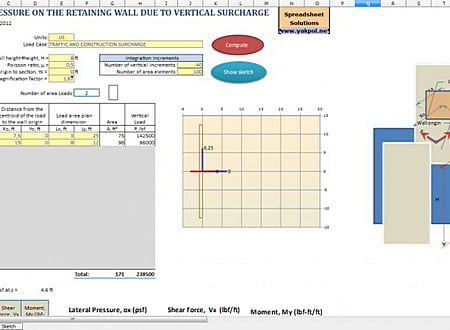 Software :
Surcharge Earth Pressure
Last Update :
17 March 2012
Downloads :
UserDownloads:

189
Surcharge Earth Pressure
Description
This spreadsheet computes lateral pressure against retaining wall due to vertical surcharge loads.
The VBA routine replaces area load with a group of closely spaced point loads. The stresses due to individual point loads are calculated using theory of elasticity equations developed by Boussinesq and then integrated. Subsequently, the spreadsheet calculates shear force and bending moment diagrams.
Similar Software
LateralK
Version:3.23 · Novo Tech Software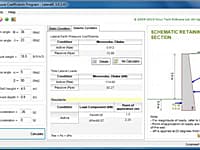 LateralK is a simple software for calculating lateral earth pressure coefficients and forces behind retaining walls in static and earthquake condition based on Rankine/ Coulumb formulas and also Mononobe/ Okabe methods.
Heave
Version:8 · CivilTech Software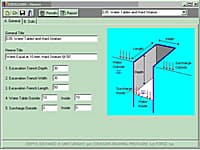 Determining The Stability of a Vertical Cut (Excavation) in Soft Soil
Heave determines the stability of a vertical cut excavation in soft soils. Multiple layers, different water tables, and surcharge loads are taken into account.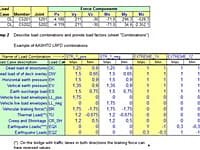 Load Combinations and Minimum/Maximum Force Envelopes
Creates load combinations and finds maximum/minimum force envelopes for structural members.
ReWaRD
Version:2.7.5 · Geocentrix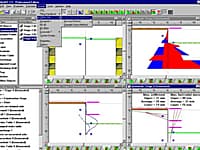 Embedded Retaining Wall Design
Designed by engineers for engineers, ReWaRD draws upon the technical expertise of Geocentrix to produce the most powerful and user friendly set of tools for retaining wall design.
With the aid of this program the displacements and the force distribution of a sheet pile wall construction can be calculated.
Comments & Reviews
About Surcharge Earth Pressure
No comments yet. Be the first to comment.
Submit a review using your Facebook ID