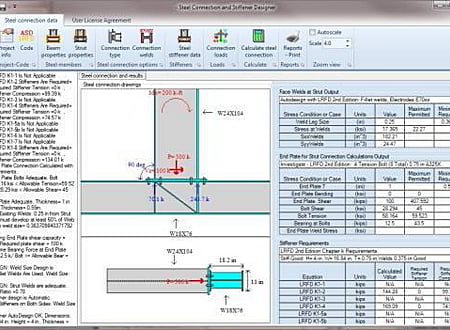 Last Update :
18 July 2013
Downloads :
UserDownloads:

906
Steel Connect
Description
Steel-Connect is a user friendly affordable steel connection software that can be a valuable design tool for the typical structural engineer. Typical steel connections can be designed in less time using the autodesign feature or user specified steel connections can be investigated. Design simple shear bolted or welded connections , full moment connections , end plate connections.
The following table provides a list of available functions in Steel-Connect.
Directly welded connections. User can specify selected welds.
Four and Eight tension bolt end-plate moment connections
Clip angles welded or bolted for simple shear.
Skew and cant angles can be specified.
Stiffener requirements are examined. Stiffeners can be autodesigned if needed.
Available Design Codes: ASD 9th Edition, LRFD 2nd Edition, LRFD 13th Edition.
Combined loads can be entered.
Strut alignment can be changed.
Autodesign and investigation options.
Comprehensive report output.
Similar Software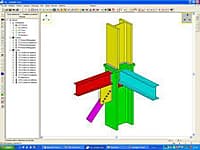 Steel Connections Design and Check
C. S. E. , Connection Study Environment, is a Windows software program completely devoted to the design, study and check of steel structures joints.   The C. S. E.
csJoint
Version:8.0 · ConSteel Solutions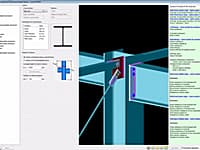 csJoint connection design software can be run as a stand-alone application and proved to be an efficient tool for structural connection design.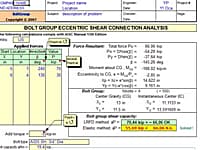 Eccentrically Loaded Bolt Group Shear Capacity
BoltGroup computes shear capacity of an eccentrically loaded bolted connection using LRFD instantaneous center of rotation method.
MITCalc Bolted Connections is designed for a geometrical design and strength check of a prestressed bolt connection, loaded by static or cyclic loading resp. , acting both in the axis of the bolt and in the plane of the connected parts.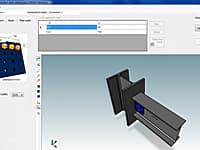 Analysis and design of steel connections
EC PRAXIS 3J is an entirely new software application, for the analysis and design of steel connections according to EC3.
Comments & Reviews
About Steel Connect
No comments yet. Be the first to comment.
Submit a review using your Facebook ID