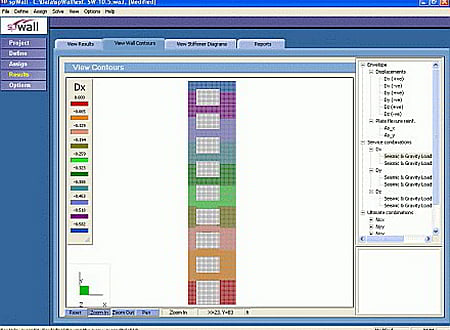 Downloads :
UserDownloads:

217
From shear walls and retaining walls to precast, ICF, and tilt-up walls, engineers worldwide use spWall (formerly pcaWall, PCA-Tilt, TILT) to optimize complicated wall design, reinforcing, and deflections.
spWall, formerly pcaWall/PCA-Tilt/TILT, is a program for design and analysis of cast-in-place reinforced concrete walls, tilt-up walls, ICF walls, and precast architectural and load-bearing panels. Upgraded to ACI 318-11, it uses a graphical interface that enables the user to easily generate complex wall models. The geometry of the wall (including any number of openings and stiffeners), the material properties, the loads (point, line, and area), and the support conditions are assigned graphically by the user. Also, springs (translational and rotational) can be graphically assigned at any node.
The program is based on the finite element method and can take into account second-order effects. The wall may include any number of openings and stiffeners. The amount of steel required for flexure is computed based on the selected design standard, and the user can specify one or two layers of reinforcement. The program calculates the required amount of reinforcement in the plate elements and stiffener elements based on the code selected by the user. For solid walls, spWall can also compare cross-sectional shear forces with calculated in-plane and out-of plane shear strength provided by concrete.
Technical Features
Support for ACI 318-11/08/05/02/99 & CSA A23.3-04/94 design standards
Finite element analysis (including 2nd order effects) of flat wall panels with stiffeners
Arbitrary geometry of wall panels which may include openings
Rectangular, L, T, or circular cross sections of stiffeners
Arbitrary boundary conditions including spring supports
Point, line, and area load types to model any loading conditions
Design of wall elements for flexure with one or two reinforcement curtains
Design of stiffener elements flexure, shear, and torsion
Similar Software
Analysis of shear wall systems
Analysis of shear wall systems: rigid, semi-rigid, and flexible diaphragms.
ReWaRD
Version:2.7.5 · Geocentrix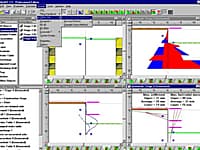 Embedded Retaining Wall Design
Designed by engineers for engineers, ReWaRD draws upon the technical expertise of Geocentrix to produce the most powerful and user friendly set of tools for retaining wall design.
Analysis of Flexible Retaining Walls
PYWALL considers soil-structure interaction by using a beam-column model and can analyze the behavior of a flexible retaining wall or soldier-pile wall with or without tiebacks or bracing systems.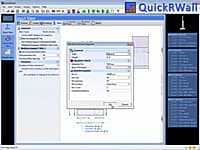 QuickRWall, QuickFooting, QuickMasonry, and QuickConcreteWall
A stand alone tool of masonry components to manage multiple structural components within a single project file.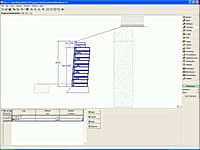 The program Redi Rock wall is used to design and check a retaining walls made from blocks produced by Redi-Rock, Inc (USA).
Comments & Reviews
About spWall
No comments yet. Be the first to comment.
Submit a review using your Facebook ID