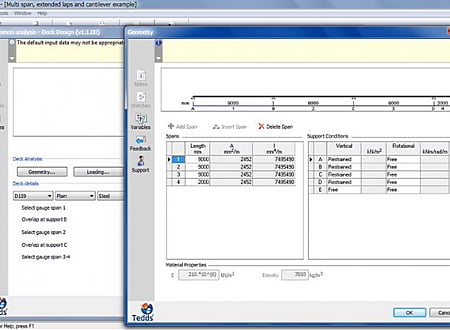 Software :
RoofDek Analysis
Downloads :
UserDownloads:

217
RoofDek Analysis
Description
The software affords exceptional design refinement, which naturally leads to the most efficient deployment of roof decks. It provides a sophisticated approach, devoid of the simplifications, conservatism and inevitable compromises of traditional design techniques.
Scope
This calculation checks the design of Tata Steel structural roof decks subject to perpendicular imposed loads. In plane loading is not checked in these calculations, contact TATA technical department if needed.
The calculation allows you to analyse any selected roof deck of up to 4 spans, the end spans may be defined as cantilevers. Extended end laps of between 10% and 20% of span can be included, with a different deck thickness at each side with up to 20 loads per span, 20 loads per support, 8 different load cases and 20 load combinations.
References
Eurocode 3: Design of steel structures - Part 1-3: General rules – Supplementary rules for cold formed members and sheeting
UK National Annex NA to BS EN 1993-1-3:2006
Eurocode 3: Design of steel structures - Part 1-5: Plated structural elements
UK National Annex NA to BS EN 1993-1-5:2007
Eurocode 9: Design of aluminium structures - Part 1-4: Cold-formed structural sheeting
UK National Annex NA to BS EN 1999-1-4:2007
Assumptions and limitations
The calculation is intended for use in the analysis and design of structural decking used to support roof elements.
Deflection is calculated by using unfactored load combinations.
Similar Software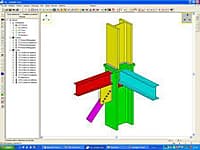 Steel Connections Design and Check
C. S. E. , Connection Study Environment, is a Windows software program completely devoted to the design, study and check of steel structures joints.   The C. S. E.
ConSteel
Version:8.0 · ConSteel Solutions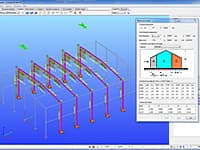 Structural Analysis For Constructions Of Steel
ConSteel provides a structural analysis software for the design office mainly involved in constructions of steel and composite structures.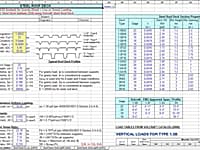 Roof Steel Deck Analysis & Design
ROOFDECK is a spreadsheet program written in MS-Excel for the purpose of analysis and design of roofs with steel deck.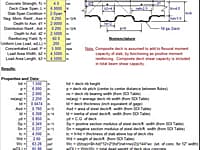 Slab on Metal Deck Analysis & Design
Slab on metal deck analysis and design (both composite and form deck) per SDI and ACI 318-99.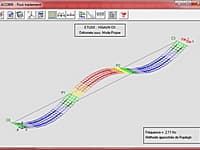 Composite Bridges Preliminary Design to Eurocodes
ACOBRI is a software developed by the CTICM for ArcelorMittal to optimize the preliminary design of structures with composite steel-concrete deck.
Comments & Reviews
About RoofDek Analysis
No comments yet. Be the first to comment.
Submit a review using your Facebook ID