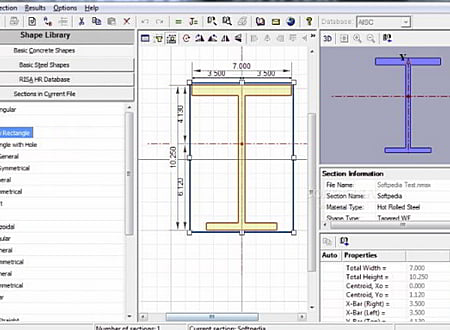 Last Update :
4 January 2013
Downloads :
UserDownloads:

359
RISASection allows the user to define any type of complex cross section either by combining standard shapes or by defining new shapes. Multiple materials are permitted in the same section. RISASection calculates all the section properties, including the torsion constant. Sections created in RISASection may be used in RISA-3D, RISA-2D and RISAFloor.
RISASection includes many powerful editing features such as automatic stacking and aligning, unlimited UNDOs, as well as the ability to create beautiful reports with cross section graphics and much more. The program supports imperial and metric units. When creating shapes you can use the convenient snap-to-grid grid, or specify the coordinates of each shape directly. Of course, comprehensive online help is also included.
RISASection Features:
Powerful align, stack and rotate tools
Directly edit section dimensions or use the snap-to-grid function
Import shape from a DXF file or select from an extensive database of shape types
Powerful calculation engine
English or metric units
Versatile reporting options
Multiple materials in the same section
Sections can be imported into RISA-3D, RISA-2D and RISAFloor to perform a code check
Demonstration Program Limitations
This demo is a working program but certain deliberate limitations have been added. These include:
No saving or reading files
No adjusting dimensions of basic shape
Similar Software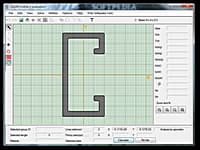 Design and analysis of custom cross section profiles
CADRE Profiler is used to design section profiles and determine their geometric properties for custom beam cross sections which can be composed of different materials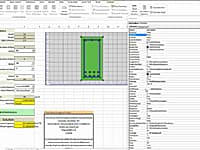 Elastic and Plastic Bending Analysis
Structures Office supports construction of arbitrary cross-sections, computes area, elastic, and plastic section properties.
CBeam
Version:2.0 · Juntunen Bridge Systems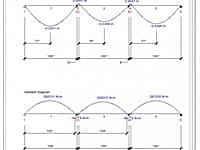 Section properties for composite beams
CBeam 2. 0 is a windows application that calculates section properties for composite beams.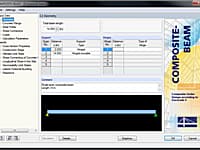 Design of Composite Beams According to ENV 1994-1-1:1992
The COMPOSITE-BEAM program performs design of composite beams according to ENV 1994‑1‑1:1992‑10.
Structural Cross Sections (concrete, steel, composite etc.)
Cross Section Analysis and Design can handle structural cross sections that are built up of one or more geometric entities and can be drawn directly using the versatile featured user interface.
Comments & Reviews
About RISASection
No comments yet. Be the first to comment.
Submit a review using your Facebook ID