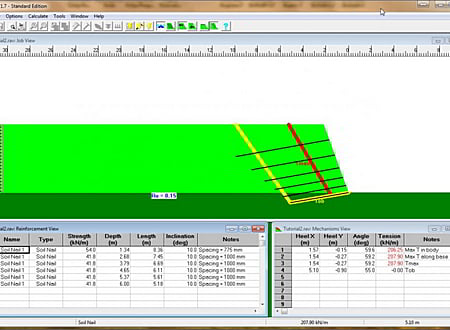 Last Update :
5 February 2014
Downloads :
UserDownloads:

220
ReActiv is an interactive computer program for designing reinforced slopes in a wide variety of soil types, using reinforced soil or soil nails. ReActiv's user interface has been designed to make the program simple to use and quick to learn - without sacrificing the level of control over calculations that engineers demand.
Features
Implements Highways Agency's Design Note HA68/94
One-part, two-part, and infinite slopes
Parabolic, parallel, horizontal, and custom water regimes
Gravel, sand, silt, clay, fill, chalk, and custom soils
Uniform surcharge
Geotextile, geogrid, soil nails, and custom reinforcement
Soil classification system based on BS5930, DIN 18196, and ASTM D2487-1069
Database of over 250 different soil types
Automatically calculates ru
Full control over direct shear, bearing, and interface shearing factors
Reduce nail lengths by alternative design procedure
Apply reinforcement force to Wedge 1 or 2
User Manual including three tutorials
Five supplied examples
Spreadsheet-like display of calculated mechanisms and required reinforcement
Calculates out-of-balance force for individual mechanisms
Automatically calculates the Tmax and Tob mechanisms
Similar Software
ReWaRD
Version:2.7.5 · Geocentrix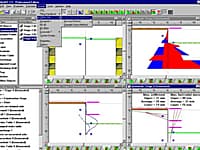 Embedded Retaining Wall Design
Designed by engineers for engineers, ReWaRD draws upon the technical expertise of Geocentrix to produce the most powerful and user friendly set of tools for retaining wall design.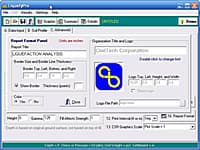 Settlement analysis by liquefaction
Software for liquefaction analysis, Software for settlement analysis by liquefaction: Liquefaction of saturated soils (silt, sand, and gravel) during earthquakes has caused severe damage to buildings, earth embankments, dams, and bridges.
iNovoLIQ
Version:1.1.1 · Novo Tech Software
iNovoLIQ application is designed for soil liquefaction analysis based on Idriss and Boulanger, 2014 methodology.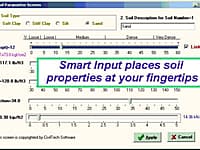 Shoring, EarthPres, Surcharge, and Heave
Shoring Suite is a software package that contains 4 Modules: Shoring, EarthPres, Surcharge, and Heave. These modules are sophisticated design and analysis tools developed by experienced engineers and professors.
Repute
Version:2.0.18 · Geocentrix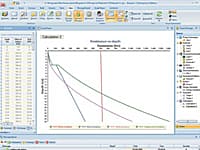 Designing & Analysing Onshore Piles
Repute provides a rich set of tools for designing/analysing onshore piles, including various types of single pile.
Comments & Reviews
About ReActiv
No comments yet. Be the first to comment.
Submit a review using your Facebook ID