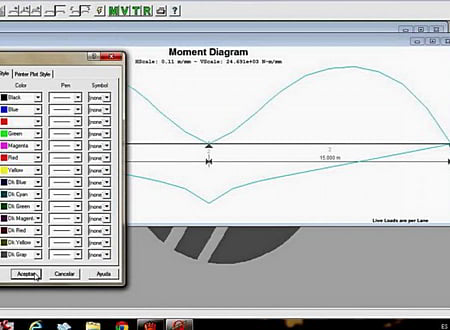 License :
GNU General Public License
Downloads :
UserDownloads:

334
QConBridge is a live load analysis program for continuous bridge frames. This software has been developed for the Alternate Route Project. QConBridge performs live load analysis for the AASHTO LRFD Bridge Design Specification HL93 live load model. The software accommodates standard and user defined DC and DW dead loads, and performs Strength I, Service I, Service II, Service III, and Fatigue Limit State combinations.
Features
Supports the AASHTO LRFD Bridge Design Specifications, First Edition
Use SI or English units interchangeably
Virtually any bridge section and geometry can be modeled
Integrated Section Properties Calculator to compute section and material properties, as well as live load distribution factors
The Bridge Contractor will help you build a bridge model to your specifications
Interactive model editing including Cut, Copy, and Paste features
Model non-prismatic spans
Model in-span hinges
Model cantilever spans
Build 2D bridge frame models, not just 1D beams
Supports DC and DW load cases with built-in and user defined loads
Supports HL93 notional live load model, including the optional dual tandem truck train
Supports pedestrian live load
Load combinations for Strength I, Service I, Service II, Service III, and Fatigue Limit States
Customizable shear and moment diagrams
User defined plotting styles
Detailed reporting
Context sensitive help
Similar Software
RspBr2
Version:3.0 · Washington State Department of Transportation
Plane Frame Structural Analysis For Bridge Engineers
RspBr2 is a plane frame structural analysis program to aid bridge engineers in design and checking beam bridges.
PGSuper
Version:2.8.2 · Washington State Department of Transportation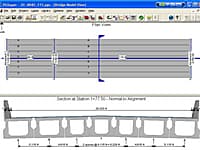 Prestressed Girder SUPERstructure design and analysis
PGSuper is a powerful open source software for design and analysis of precast-prestressed girder bridges.
Static and Moving Load Analysis of Bridges
Builds two-dimensional bridge models and performs static and moving load analyzes. Uses GT STRUDL as a structural analysis engine.
BridgeLink
Version:1.0 · Washington State Department of Transportation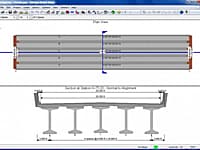 Integrated Bridge Engineering Design, Analysis, and Load Rating
BridgeLink is an integrated bridge engineering software tool for analysis, design, and load rating.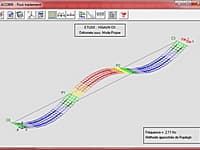 Composite Bridges Preliminary Design to Eurocodes
ACOBRI is a software developed by the CTICM for ArcelorMittal to optimize the preliminary design of structures with composite steel-concrete deck.
Comments & Reviews
About QConBridge
No comments yet. Be the first to comment.
Submit a review using your Facebook ID