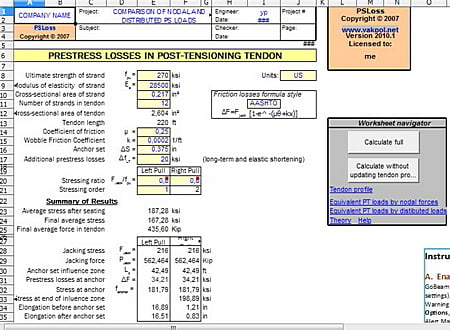 Last Update :
15 December 2010
Downloads :
UserDownloads:

124
The spreadsheet calculates elongation, friction and anchor set losses of prestressing tendon. The tendon can have a three-dimensional profile and may be jacked from one or both ends. PSLoss assists in the development of a vertical tendon profile for multi-span beams. The spreadsheet provides dynamic graphics for easy visualization and verification of input data and computed results. It has been used successfully for a variety of bridge projects and has accurately checked post-tensioning shop drawings.
Features:
pulling from one or both ends
three-dimensional tendon profile
computes equivalent post-tensioning loads on the beam
SI and US units
international design codes
Similar Software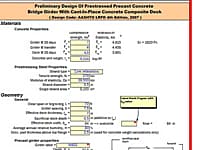 Preliminary Design Of Prestressed Concrete Bridge Girder
This spreadsheet performs preliminary analysis of a precast prestressed bridge girder at the prestress transfer and service stages.
MITCalc Bolted Connections is designed for a geometrical design and strength check of a prestressed bolt connection, loaded by static or cyclic loading resp. , acting both in the axis of the bolt and in the plane of the connected parts.
SectProp
Version:2010.1 · Yakov Polyakov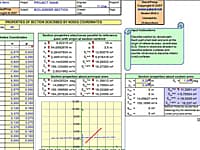 Cross-Sectional Properties Of Structural Members
Calculates structural properties of general cross-section. Also calculates torsional properties of thin-walled section including shear center and warping moment of inertia.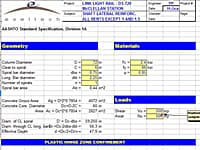 Shear Capacity and Confinement Reinforcement of Columns
Calculates shear capacity and confinement reinforcement of circular and oblong shape reinforced concrete columns.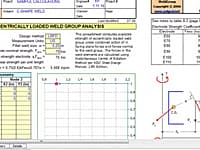 Eccentrically Loaded Weld Group Shear Capacity
Implements AISC LRFD method to calculate capacity of weld group under combined action of eccentrically applied in-plane and normal forces.
Comments & Reviews
About PSLoss
No comments yet. Be the first to comment.
Submit a review using your Facebook ID