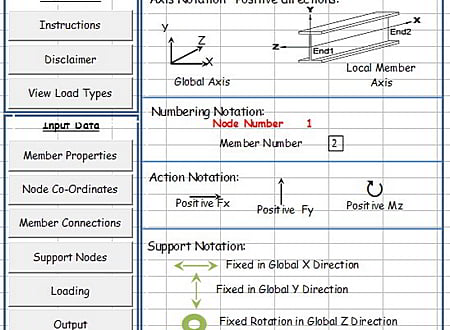 Software :
Plane Frame Analysis for Static Loads
Last Update :
6 January 2016
Downloads :
UserDownloads:

198
Plane Frame Analysis for Static Loads
Description
A Plane Frame Analysis for bending moments, axial and shears forces in a plane frame structure under point loads, UDL's, linearly varying distributed loads (soil pressures) and moments.
Limits have been applied to the number of nodes (21), number of members (20), and number of loads in one load case (40). Either metric units or US Customary units can be used.
Similar Software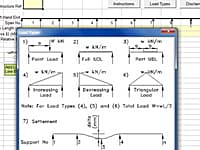 Analysis for Static Loads and Settlement at Supports
Calculates bending moments and shear forces for loads on a single span or continuous multi-span beam using the moment distribution method.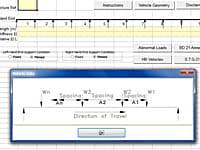 Abnormal Load Vehicles, HB Vehicles, BD21 Annex D Vehicles and BD86 STGO Vehicles are analysed as moving loads across a single or multi-span continuous line beam to determine critical bending moments and shear forces.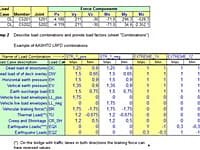 Load Combinations and Minimum/Maximum Force Envelopes
Creates load combinations and finds maximum/minimum force envelopes for structural members.
spFrame
Version:1.50 · StructurePoint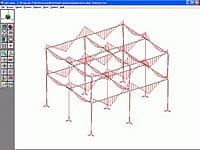 Analysis Package For 2D and 3D Buildings And Structures
spFrame, formerly pcaFrame, is a feature-rich structural analysis program for two- and three-dimensional structures subject to static loads.
FRAME
Version:1.1 · Alex Tomanovich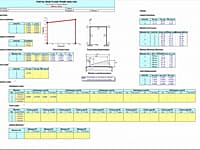 Portal and Gable Rigid Plane Frame Analysis
FRAME is a spreadsheet program written in MS-Excel for the purpose of plane frame analysis of portal and gable rigid plane frames subjected to various types of loading.
Comments & Reviews
About Plane Frame Analysis for Static Loads
No comments yet. Be the first to comment.
Submit a review using your Facebook ID