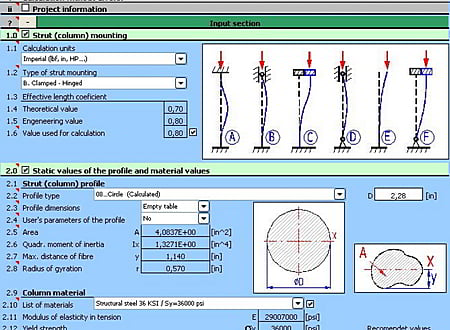 Software :
MITCalc Buckling
Last Update :
28 August 2014
Downloads :
UserDownloads:

380
MITCalc Buckling
Description
The program is designed to calculate the optimum cross-section and perform strength check of slender struts strained for buckling.
The program includes:
Selection of six basic types of buckling.
Calculation of area characteristics of 20 types of cross-sections.
Design of optimum profile accommodating the set load.
Strength check of the strut.
Calculation and graphical representation of permitted stress dependent on slenderness rate.
A table of materials and a table of area characteristics of W, S, C and L profiles according to ANSI/AISC and I, U, L and T profiles according to DIN/ISO.
The calculation is based on data, procedures, algorithms (Johnson, Tetmajer, Euler, Secant) and data from specialized literature and AISC, ISO, DIN and BS standards.
List of standards (DIN 1025, 1026, 1028, 1029, 1024, AISC W, AISC S, AISC C, AISC L, AISC LU . . . )
Similar Software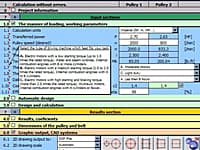 Mechanical, Industrial and Technical Calculations
MITCalc is the mechanical, industrial and technical calculations package. This professionally multi-language prepared package includes solutions for gearings, belt and chain drives, bearings, springs, beams, shafts, bolt joints and many others.
SAMBA
Version:3.51 · Castalia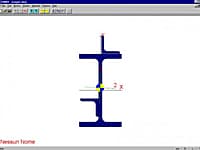 Shape And Material Brisk Archive
Samba (Shape And Material Brisk Archive) is a software program very useful for structural designer, particularly of steel structures.
Buckling Analysis for Plates with or Without Stiffeners
The RF-/PLATE-BUCKLING is available as an add‑on module for RFEM/RSTAB or as a separate stand‑alone program.
Profiles Static Characteristics
MITCalc Profiles solves area characteristics of common profiles and mass characteristics of solids created by drawing or rotation of the profile.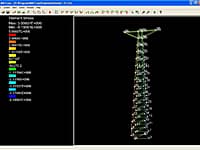 MATruss performs static strength analysis of a structure made up by truss elements. An easy to use preprocessor make the input of model data a fast and carefree process.
Comments & Reviews
About MITCalc Buckling
No comments yet. Be the first to comment.
Submit a review using your Facebook ID