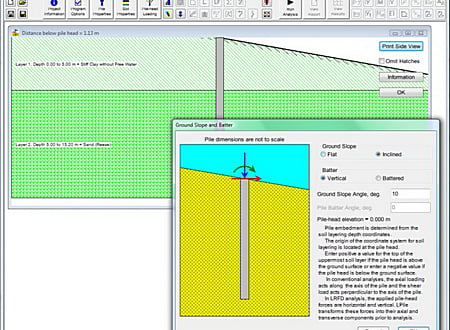 Last Update :
18 March 2015
Downloads :
UserDownloads:

255
LPILE is a special-purpose program based on rational procedures for analyzing a pile under lateral loading using the p-y method. LPILE solves the differential equation for a beam-column using nonlinear lateral load-transfer (p-y) curves. The program computes deflection, bending moment, shear force and soil response over the length of the pile.
Components of the stiffness matrix at the pile head may be computed internally by LPILE so users can incorporate basic soil-structure interaction in their super-structure analyses. LPILE also provides graphs of pile-head deflections for various pile lengths, to help users with optimum pile penetrations (for lateral response). Push-over and buckling analyses may also be optionally performed by LPILE.
Nonlinear lateral load-transfer from the foundation to the soil is modeled using p-y curves generated internally using published recommendations for various types of soils. Special procedures are programmed for computing p-y curves for layered soils and for rocks. Alternatively, the user can enter manually any other externally generated p-y curves.
Five types of pile-head boundary conditions may be selected, and the structural properties of the pile can vary as a function of depth. LPILE has analytical features to compute the nonlinear moment-curvature relationships and nominal moment capacity of a pile's section based on specified pile dimensions and nonlinear material properties. Optionally, the user may enter nonlinear moment-curvature relationships to be used in place of the internally-generated values. LPILE provides several design recommendations for rebar arrangements in drilled shafts.
* The demo version is actually the full program but will not allow users to save or run new data models. However, various previously-run example files are installed with the demo version. Users can open each example file to look at the type of input data parameters used in various applications and also observe corresponding output graphics and text files that were produced by the program for each model.
Similar Software
PyPile
Version:0.2.2 · Yong Technology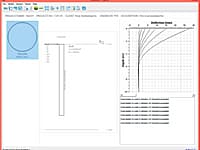 PyPile is a free lateral pile analysis software program based on p-y curves. Pile deflection, bending moment and shear force will be analyzed with different load cases.
PileAXL
Version:2014 · Innovative Geotechnics
Behaviour Of Single Piles Under Axial Loading
PileAXL is a program that analyzes the behaviour of single piles under axial loading applied at the pile head for both onshore and offshore engineering problems.
PileLAT
Version:2014 · Innovative Geotechnics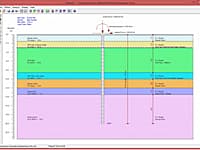 Behaviour Of Single Piles Under Lateral Loading
PileLAT is a finite-element based program that analyzes the behaviour of single piles mainly under lateral loading based on p-y curves.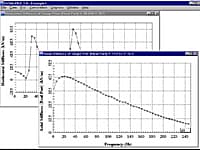 Analysis of Pile Foundations Under Dynamic Loading
Program DynaPile was developed to compute the dynamic stiffness of single piles or pile groups.
PileROC
Version:2014 · Innovative Geotechnics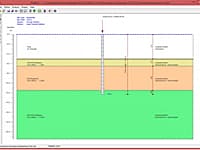 Design and Analysis for Rock Socket under Axial Loading
PileROC is a program that predicts the load settlement curve at the pile head for the piles socketed into rock based on three commonly-used methods.
Comments & Reviews
About LPILE
No comments yet. Be the first to comment.
Submit a review using your Facebook ID