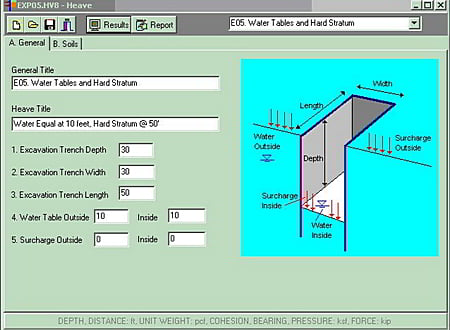 Last Update :
11 June 2015
Downloads :
UserDownloads:

252
Heave is one of modules in Shoring Suite. It determines the stability of a vertical cut (excavation) in soft soils. Multiple layers, different water tables, and surcharge loads are taken into account. Heave can handle up to 5 different soil layers with surcharge loads and different water tables inside and outside braced cuts. If hard stratum is encountered, the failure surface can be automatically adjusted only through weak soils.
Heave uses Terzaghi's method. The factor of safety will be calculated and the failure surface will be presented graphically. This program is also included in SHORING Suite.
Similar Software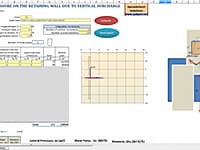 Lateral Pressure on the Retaining Wall Due to Vertical Surcharge
This spreadsheet computes lateral pressure against retaining wall due to vertical surcharge loads.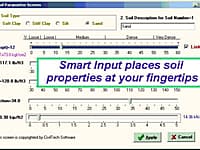 Shoring, EarthPres, Surcharge, and Heave
Shoring Suite is a software package that contains 4 Modules: Shoring, EarthPres, Surcharge, and Heave. These modules are sophisticated design and analysis tools developed by experienced engineers and professors.
ReWaRD
Version:2.7.5 · Geocentrix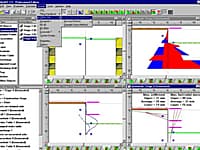 Embedded Retaining Wall Design
Designed by engineers for engineers, ReWaRD draws upon the technical expertise of Geocentrix to produce the most powerful and user friendly set of tools for retaining wall design.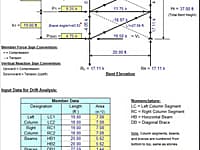 Analysis Of Vertical Bents With Tension-Only X-Bracing
XBRACING is a spreadsheet program written in MS-Excel for the purpose of analyzing X-braced bents with tension-only systems.
Trench
Version:2012 · Deep Excavation LLC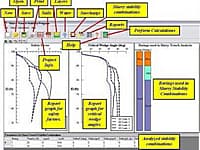 Evaluate the stability of bentonite slurry trenches and panels
Trench is a user friendly, affordable, and versatile software program that evaluates the stability of slurry supported trenches and panels for 2D and 3D analyses.
Comments & Reviews
About Heave
No comments yet. Be the first to comment.
Submit a review using your Facebook ID