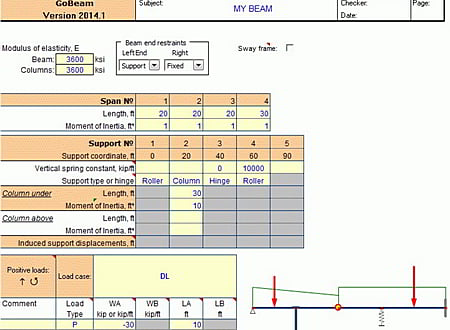 Last Update :
25 October 2015
Downloads :
UserDownloads:

492
The easiest and most straight forward continuous beam analysis program available. Features static and moving loads, support settlements, non-linear analysys of beam on elastic foundation and influence lines analysis. It allows elastic and column support conditions, hinges and variable beam stiffness. 
Features:
Modeling
Up to 100 spans
Concentrated and linear loads
Support displacement load
Free or fixed ends of the beam
Column supports (above or below)
Elastic and compression only supports
In-span hinges (moment release)
Variable beam stiffness within a span
Sway frame option (for beams with columns)
Functionality
Static analysis
Beam on elastic foundation non-linear analysis
Support settlement analysis
Moving load analysis for user-defined lane+truck type of loads. Standards loads such as HL93, CL-625, M 1600, Cooper E90 and others are included in truck database.
Influence lines of forces, support reactions and deflections
Multiple load cases
Load combinations
Force envelopes
Section properties calculator
SI and US customary units
Customized printing
Similar Software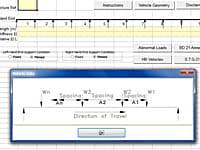 Abnormal Load Vehicles, HB Vehicles, BD21 Annex D Vehicles and BD86 STGO Vehicles are analysed as moving loads across a single or multi-span continuous line beam to determine critical bending moments and shear forces.
Static and Moving Load Analysis of Bridges
Builds two-dimensional bridge models and performs static and moving load analyzes. Uses GT STRUDL as a structural analysis engine.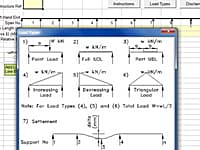 Analysis for Static Loads and Settlement at Supports
Calculates bending moments and shear forces for loads on a single span or continuous multi-span beam using the moment distribution method.
RspBr2
Version:3.0 · Washington State Department of Transportation
Plane Frame Structural Analysis For Bridge Engineers
RspBr2 is a plane frame structural analysis program to aid bridge engineers in design and checking beam bridges.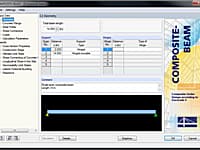 Design of Composite Beams According to ENV 1994-1-1:1992
The COMPOSITE-BEAM program performs design of composite beams according to ENV 1994‑1‑1:1992‑10.
Comments & Reviews
About GoBeam
No comments yet. Be the first to comment.
Submit a review using your Facebook ID