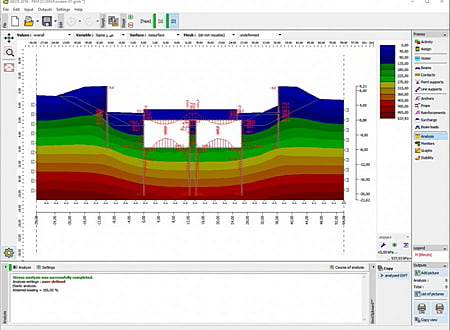 Last Update :
11 November 2014
Downloads :
UserDownloads:

979
GEO5 is a suite of programs for geotechnical analysis. The software package includes individual programs that are closely linked to each other and run in the same environment. Each program solves a specific geotechnical problem. Besides common geotechnical engineering tasks, the suite also includes highly sophisticated applications for the analysis of tunnels, building damage due to tunnelling, stability of rock slopes etc.
GEO5 consists of wide range of powerful programs based on analytical methods and the Finite Element Method.
Analytical methods of computation (e. g. slope stability, sheeting design) allow users to design and check structures quickly and efficiently. The designed structure may be transferred into the FEM application where the general analysis of the structure is performed using the Finite Element Method. This not only saves designers time but also compares two independent solutions, thereby increasing design safety.
GEO5 Geotechnical Software Package
Finite Element Analysis
Foundation Design
Sheet Piling Design
Retaining Wall Design
Slope Stability Analysis
Underground Structures
Settlement Analyses
Digital Model of Terrain
Demo version of GEO5 runs with the following restrictions
1. does not allow saving data
2. output reports are marked with notice "Demo version"
3. not all soil characteristics are available
Similar Software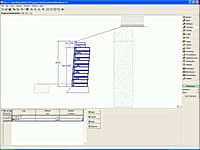 The program Redi Rock wall is used to design and check a retaining walls made from blocks produced by Redi-Rock, Inc (USA).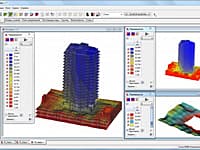 An Integrated System For Finite Element Structural Analysis
SCAD for Windows is a new-generation system developed by engineers for use of engineers and implemented by a team of experienced programmers.
Slide
Version:6.0 · Rocscience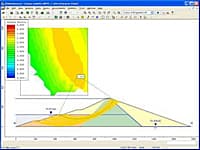 2D Limit Equilibrium Slope Stability Analysis
Slide is the most comprehensive slope stability analysis software available, complete with finite element groundwater seepage analysis, rapid drawdown, sensitivity and probabilistic analysis and support design.
DeepXcav
Version:2015 · Deep Excavation LLC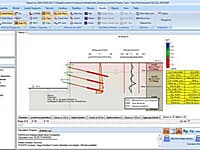 Design of Embedded Earth Retaining Walls
DeepXcav is a software program for the design of embedded earth retaining walls with limit-equilibrium and advanced non linear elastoplastic analysis methods. DeepXcav offers a one-stop complete geotechnical and structural solution for deep excavation.
Phase2
Version:9.0 · Rocscience
Finite Element Analysis for Excavations and Slopes
Phase2 is a powerful 2D elasto-plastic finite element stress analysis program for underground or surface excavations in rock or soil.
Comments & Reviews
About GEO5
Submit a review using your Facebook ID