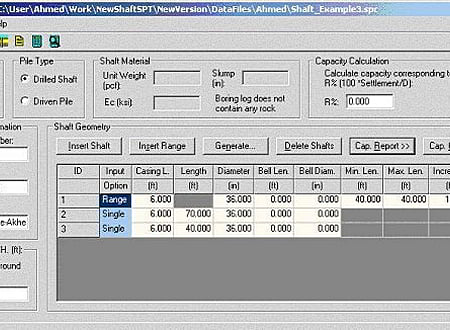 Last Update :
28 June 2012
Downloads :
UserDownloads:

442
The FB-Deep computer program is a Windows based program used to estimate the static axial capacity of drilled shafts and driven piles. The drilled shaft methodology is based upon Federal Highway Administration reports. Driven pile methodology utilizes two types of analyses: SPT and CPT.
SPT methodology is based on empirical correlations between cone penetrometer tests and standard penetration tests for typical Florida soil types. Unit end bearing resistance and unit skin friction resistance versus SPT N values are given in the FDOT research bulletin RB-121, for the different soil types.
Driven pile capacity calculated using CPT data can be determined by three separate methods.
The first method is the Schmertmann method proposed by Schmertmann in 1978 (AASHTO LRFD Bridge Design Manual).
The second method is the LCPC method proposed by Bustamante and Gianeselli for the French Highway Department in 1982.
The third method is the UF method proposed by Bloomquist, McVay and Hu for the FDOT in 2007.
This download is a demo version. Demo version has the file save feature disabled. Note: The Demo version can not be used to update a licensed version.
Similar Software
PileAXL
Version:2014 · Innovative Geotechnics
Behaviour Of Single Piles Under Axial Loading
PileAXL is a program that analyzes the behaviour of single piles under axial loading applied at the pile head for both onshore and offshore engineering problems.
SHAFT
Version:2012 · Ensoft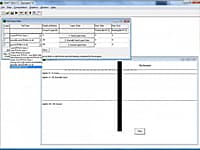 Study of Drilled Shafts under Axial Loading
SHAFT is a computer program used to evaluate the axial capacity and the short-term, load-settlement curves of drilled shafts or bored piles in various types of soils.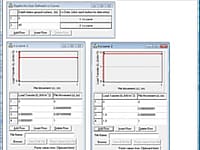 Computation of Load-Settlement Relationships of Vertically-Loaded Piles
TZPILE implements the well-known method of soil-structure interaction, commonly called the t-z method, where t-z and Q-w curves are used respectively for load transfers in side resistance and end bearing.
APILE
Version:2014 · Ensoft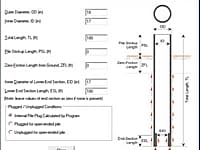 Analysis of the Axial Capacity of Driven Piles
APILE is used to compute the axial capacity, as a function of depth, of a driven pile in clay, sand, or mixed-soil profiles.
NovoLiq
Version:3.1 · Novo Tech Software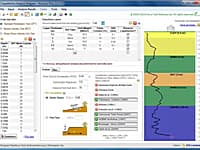 This robust software is designed for soil liquefaction analysis during earthquake and supports multi-layer as well as single layer stratigraphy.
Comments & Reviews
About FB-Deep
No comments yet. Be the first to comment.
Submit a review using your Facebook ID