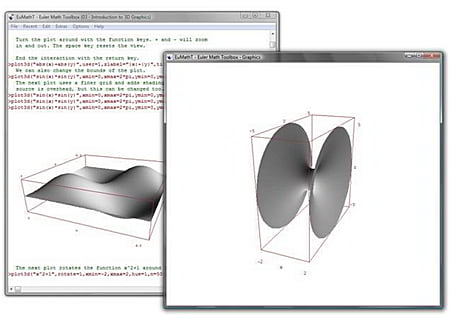 Software :
Euler Math Toolbox
Last Update :
17 March 2015
License :
GNU General Public License
Downloads :
UserDownloads:

216
Euler Math Toolbox
Description
Euler is a free and open-source numerical software package. It contains a matrix language, a graphical notebook style interface, and a plot window. Euler is designed for higher level math such as calculus, optimization, and statistics.
 The software can handle real, complex and interval numbers, vectors and matrices, it can produce 2D/3D plots, and uses Maxima for symbolic operations
Powerful, versatile, mature software for numerical and for symbolic computations including an infinite arithmetic,
Used in many schools and universities for teaching and research.
Similar to Matlab, but has an own style, and a different syntax.
Supports symbolic mathematics using the open algebra system Maxima.
For Windows, or under Linux in Wine.
Exports to HTML, PNG, SVG and more formats.
Friendly, easy to use user interface.
Extensive help, documentation, reference and examples.
Free and open source.
Similar Software
Genius
Version:1.0.19 · Jiri Lebl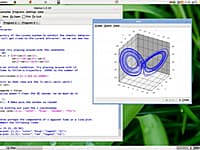 Mathematics Tool and the GEL Language
Genius is a free open source numerical computing environment and programming language, similar in some aspects to MATLAB, GNU Octave, Mathematica and Maple.
Open Source Numerical Computing Environment
FreeMat is a free open source numerical computing environment and programming language, similar to MATLAB and GNU Octave.
Scilab
Version:5.5.2 · Scilab Enterprises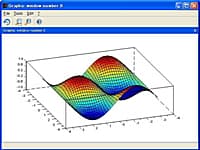 Open source software for numerical computation
Scilab is free and open source software for numerical computation providing a powerful computing environment for engineering and scientific applications.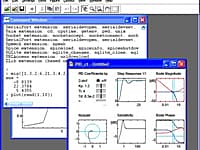 Simulation and scientific visualisation
Ground-breaking software for simulation and scientific visualisation. Through innovative use of interactive graphics, Sysquake reveals insights into complex mathematical systems.
Dagra
Version:2.0.12 · Blue Leaf Software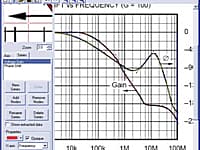 Converts printed data to numerical data
Software to digitize data from graphs for Engineering design calculations and analysis.
Comments & Reviews
About Euler Math Toolbox
No comments yet. Be the first to comment.
Submit a review using your Facebook ID