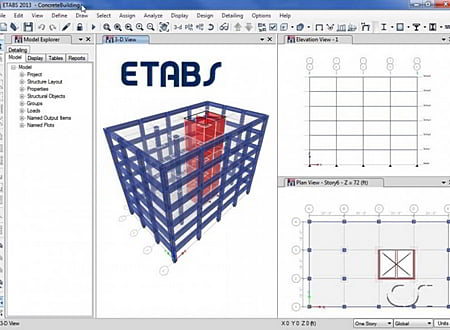 Last Update :
1 December 2014
Downloads :
UserDownloads:

1861
For nearly 30 years ETABS has been recognized as the industry standard for Building Analysis and Design Software. Today, continuing in the same tradition, ETABS has evolved into a completely Integrated Building Analysis and Design Environment. The System built around a physical object based graphical user interface, powered by targeted new special purpose algorithms for analysis and design, with interfaces for drafting and manufacturing, is redefining standards of integration, productivity and technical innovation.
The integrated model can include Moment Resisting Frames, Braced Frames, Staggered Truss Systems, Frames with Reduced Beam Sections or Side Plates, Rigid and Flexible Floors, Sloped Roofs, Ramps and Parking Structures, Mezzanine Floors, Multiple Tower Buildings and Stepped Diaphragm Systems with Complex Concrete, Composite or Steel Joist Floor Framing Systems. Solutions to complex problems such as Panel Zone Deformations, Diaphragm Shear Stresses, and Construction Sequence Loading are now at your fingertips.
ETABS is the solution, whether you are designing a simple 2D frame or performing a dynamic analysis of a complex high-rise that utilizes non-linear dampers for inter-story drift control.
Similar Software
Automated Floor Layout and Optimization for Complete Building Systems
RISAFloor is a powerful application designed to help you create CAD drawings for structural engineers.
spSlab
Version:3.60 · StructurePoint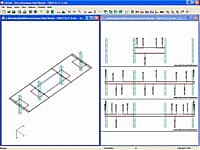 Analysis, Design and Investigation of Reinforced Concrete Floor Systems
spSlab (formerly pcaSlab/ADOSS) is highly efficient and widely used for analysis, design and investigation of reinforced concrete floor systems.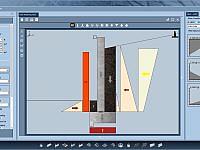 Structure Design and Beam Calculation
StruCalc 8. 0 is the next generation of structural analysis software. The intuitive interface combined with the power to design multiple span members using steel, wood, flitch beams or manufactured lumber propels StruCalc ahead of the competition.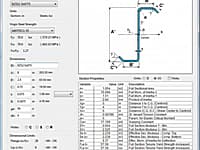 Design Of Flexural Members Of Cold-Formed Steel
Cold-Formed Steel BeamDesign is a friendly and powerful software for the design of flexural members of Cold-Formed Steel, following AISI 2001 and 1996/99 Specifications.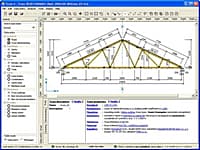 Software suite TRUSS4 is designed for analysis of timber truss structures connected with punched metal plate fasteners.
Comments & Reviews
About ETABS
Submit a review using your Facebook ID