Last Update :
23 February 2014
Downloads :
UserDownloads:

233
DisNet is a powerful, useful and comprehensive water pipe network modeling software that can be effectively used for modeling a new or editing an existing distribution system and supports as your modeling requirements grow.
Software DisNet from TechSOFT Engineering Services is primarily for the engineering applications in Water Distribution System, Drainage, Stream Hydrology etc. The output is generated with highest possible level of accuracy and with sufficient information details. DisNet is the most complete software in the international market place to design water distribution facilities for various sites most effectively. In DisNet, the USP lies in its simplicity for applications which are very complex processes and such simplicity is hardly available in other market available products.
Key Features:
Easy-to-use CAD Interface to work interactively on Site Plan Drawing
Uses ground Topographic Survey Data In system model
Operations Modeling with location and details of source and pumps
Simplest way tor Model Building and Editing
Comprehensive in built CAD Management
Results Presentation as Reports and CAD drawings
Output includes node wise elevation and aval anle head
Output includes pipe wise diameter and discharge
Model Management
Option Studies that helps in Cost Management
Training data. Step by step Users Guide and Training video
River Stream Hydrology and Synthetic Unit Hydrograph
Similar Software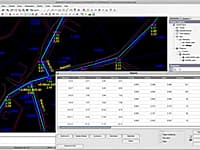 The WaterNET-CAD is software product that can be used in order to create, edit and analyze any kind of sewer, water distribution, storm or vacuum sewer network facility.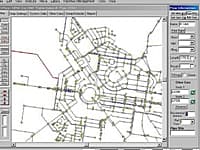 Develop Fluid Distribution System Models
Pipe is KYPipe GUI allows users to develop pipe system models with just a few intuitive steps.
Giswater
Version:1.1.179 · Giswater Association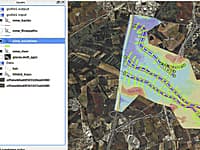 Connect Water Simulation Programs to a Powerful GIS Interface
Giswater connects water simulation programs to a powerful GIS interface, and lays the foundation for full management of water supply systems, sewerage systems, drainage networks and rivers.
LOOPS
Version:1.02 · UCF Civil Engineering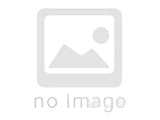 Implementation of the familiar Hardy-Cross pipe distribution algorithm.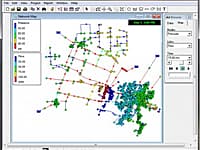 Model Water Distribution Piping Systems
EPANET is software that models water distribution piping systems. EPANET is public domain software that may be freely copied and distributed.
Comments & Reviews
About DisNet
No comments yet. Be the first to comment.
Submit a review using your Facebook ID