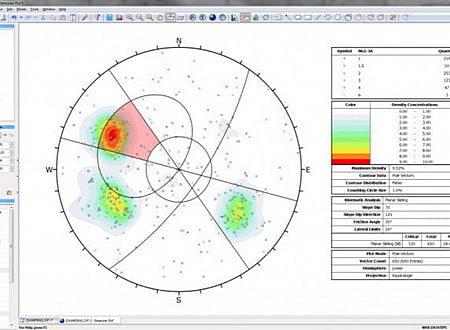 Last Update :
4 November 2014
Downloads :
UserDownloads:

330
Dips is designed for the interactive analysis of orientation based geological data. The program is capable of many applications and is designed for the novice or occasional user, and for the accomplished user of stereographic projection who wishes to utilize more advanced tools in the analysis of geological data.
Dips allows the user to analyze and visualize structural data following the same techniques used in manual stereonets. In addition, it has many computational features, such as statistical contouring of orientation clustering, mean orientation and confidence calculation, cluster variability, and qualitative and quantitative feature attribute analysis.
Dips is designed for the analysis of features related to the engineering analysis of rock structures, however, the free format of the Dips data file permits the analysis of any orientation-based data.
Similar Software
RISAFoot
Version:4.0 · RISA Technologies
Analysis, Design and Drawing of Spread Footings and Pedestals
RISAFoot is a compact application that allows you to analyze the behavior of different types of footings under certain loads.
POLEFDN
Version:2.3 · Alex Tomanovich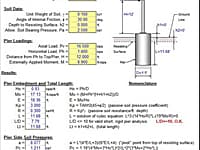 POLEFDN is a spreadsheet program written in MS-Excel for the purpose of analysis of a pole foundation assuming the use of a rigid round pier which is assumed free at the top and subjected to lateral and vertical loads.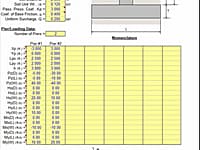 Rectangular Spread Footing Analysis
FOOTINGS is a spreadsheet program written in MS-Excel for the purpose of analysis of rigid rectangular spread footings with up to 8 total piers, and for either uniaxial or biaxial resultant eccentricities.
Maxima
Version:5.35.1 · Lyosha Beshenov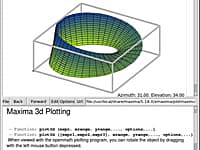 Maxima is a system for the manipulation of symbolic and numerical expressions, including differentiation, integration, Taylor series, Laplace transforms, ordinary differential equations, systems of linear equations, polynomials, and sets, lists, vectors, matrices, and tensors.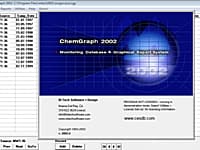 Groundwater Assist & ChemGraph
Groundwater Assist extracts pertinent groundwater data from raw lab data files and adds it to historical data in Excel tables or other types of databases. ChemGraph is an Access database and report writer.
Comments & Reviews
About Dips
No comments yet. Be the first to comment.
Submit a review using your Facebook ID