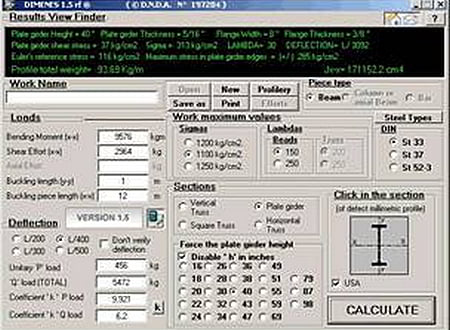 Last Update :
24 January 2013
Downloads :
UserDownloads:

307
Dimenes 1.5 rf
Description
Dimenes is a program useful to design metallic structures for the most common cases. Basically it is a calculator for sections of beams, columns and bars, which compares different solutions and performs qualitative and quantitative computation of materials.
The tables of profiles correspond to steel ST 37 DIN standards, USA or F 22 type CIRSOC standards, Normal and of folded foil. With these profiles (that can be replaced by the author to the user's order for other profiles used in his region) you can obtain pieces of up to approximately 220 Kg per lineal meter, data that give an idea of the utilization scope.
The present demo version doesn't limit any function of the program. The only limitation is that you won't be able to calculate all the sections available in the complete version of Dimenes.
Similar Software
Advance Concrete is specifically designed for engineers and structural draftsmen looking for a complete and easy to use software completely integrated into AutoCAD.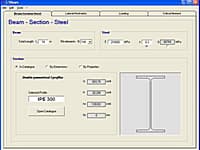 Lateral Torsional Buckling of Beams
LTBeam is a software which deals with the elastic Lateral Torsional Buckling of Beams under bending action about their major axis.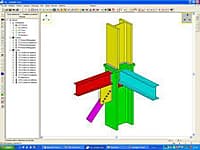 Steel Connections Design and Check
C. S. E. , Connection Study Environment, is a Windows software program completely devoted to the design, study and check of steel structures joints.   The C. S. E.
ConSteel
Version:8.0 · ConSteel Solutions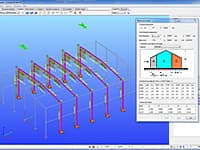 Structural Analysis For Constructions Of Steel
ConSteel provides a structural analysis software for the design office mainly involved in constructions of steel and composite structures.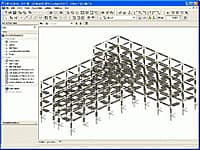 Design and analysis of 2D and 3D frame structures
Program suite FIN EC is a great tool for design and static and dynamic analysis of 2D and 3D frame structures.
Comments & Reviews
About Dimenes 1.5 rf
No comments yet. Be the first to comment.
Submit a review using your Facebook ID