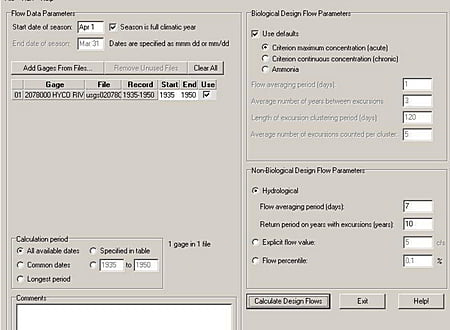 Last Update :
27 December 2006
Downloads :
UserDownloads:

439
DFLOW 3.1 is a Windows-based tool developed to estimate user selected design stream flows for low flow analysis and water quality standards. This latest version can be readily used by regulators in state and EPA regional offices, modelers, or anyone else interested in calculating design flow statistics. DFLOW inputs daily stream flow records (such as those records from the systematic data collection program maintained by the USGS) and calculates user-specified biologically-based design flows, hydrologically-based design flows, harmonic, and percentile flows. DFLOW can simultaneously determine and compare various design flow statistics for numerous water bodies.
Similar Software
HEC-RAS
Version:4.1 · Hydrologic Engineering Center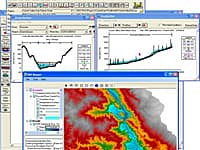 HEC-RAS is designed to perform one-dimensional hydraulic calculations for a full network of natural and constructed channels.
HYDROFLO
Version:3.0 · Tahoe Design Software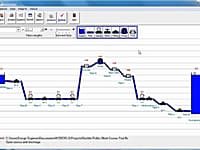 HYDROFLO determines the steady-state flows and pressures and other operating parameters in single source/single discharge, gravity and pumped flow systems.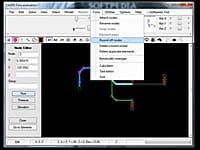 CADRE Flow is developed using the basic principles of finite element method as applied to the hydraulics flow field.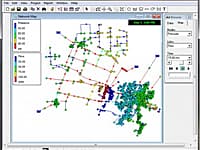 Model Water Distribution Piping Systems
EPANET is software that models water distribution piping systems. EPANET is public domain software that may be freely copied and distributed.
Steady and Nonsteady Flow in an Irregularly Shaped Flow System
MODFLOW-2005 (Harbaugh, 2005) simulates steady and nonsteady flow in an irregularly shaped flow system in which aquifer layers can be confined, unconfined, or a combination of confined and unconfined.
Comments & Reviews
About DFLOW
No comments yet. Be the first to comment.
Submit a review using your Facebook ID