David Childs is the developer of 3 civil engineering softwares currently listed at CESDb. Please visit developers website for software support, product updates, licenses and other information about Line Beam Analysis for Static Loads, Plane Frame Analysis for Static Loads, Line Beam Analysis for Moving Vehicle Loads.
For more information please visit:
Software by David Childs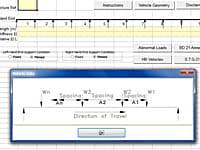 Abnormal Load Vehicles, HB Vehicles, BD21 Annex D Vehicles and BD86 STGO Vehicles are analysed as moving loads across a single or multi-span continuous line beam to determine critical bending moments and shear forces.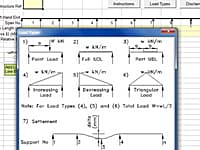 Analysis for Static Loads and Settlement at Supports
Calculates bending moments and shear forces for loads on a single span or continuous multi-span beam using the moment distribution method.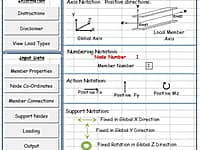 Bending Moments, Axial and Shears Forces in a Plane Frame
A Plane Frame Analysis for bending moments, axial and shears forces in a plane frame structure under point loads, UDL's, linearly varying distributed loads (soil pressures) and moments.