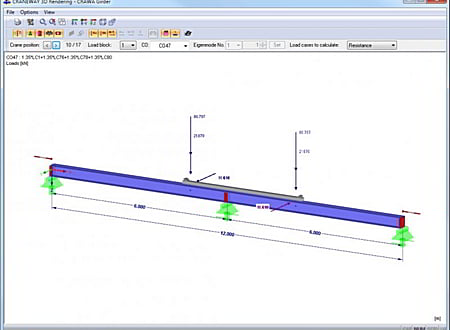 Downloads :
UserDownloads:

17
The stand-alone program CRANEWAY analyzes craneway girders according to:
EN 1993-6:2008-09 (Eurocode 3)
DIN 4132:1981-02 and DIN 18800:1990-11
Features
Stress analysis of crane runways and welds
Fatigue design of crane runways and welds
Deformation analysis
Plate buckling analysis for wheel load introduction
Stability analysis for lateral torsional buckling according to the second-order analysis of torsional buckling (1D FEA element)
For design according to Eurocode 3 the following National Annexes are available:
United Kingdom BS EN 1993-6/NA:2009-11 (United Kingdom)
DIN EN 1993-6/NA:2010-12 (Germany)
Belgium NBN EN 1993-6/ANB:2011-03 (Belgium)
Cyprus CYS EN 1993-6/NA:2009-03 (Cyprus)
CSN EN 1993-6/NA:2010-03 (Czech Republic)
SFS EN 1993-6/NA:2010-03 (Finland)
NF EN 1993-6/NA:2011-12 (France)
UNI EN 1993-6/NA:2011-02 (Italy)
LST EN 1993-6/NA:2010-12 (Lithuania)
NEN EN 1993-6/NB:2012-05 (Netherlands)
Norway NS EN 1993-6/NA:2010-01 (Norway)
Sweden SS EN 1993-6/NA:2011-04 (Sweden)
In addition to the National Annexes (NA) listed above, you can also define a specific NA, applying user-defined limit values and parameters.
Similar Software
Buckling Analysis for Plates with or Without Stiffeners
The RF-/PLATE-BUCKLING is available as an add‑on module for RFEM/RSTAB or as a separate stand‑alone program.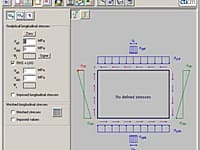 EBPlate is a piece of software developed by CTICM with a partial funding of the European Research Fund for Coal and Steel (RFCS). It assesses the critical stresses associated to the elastic buckling of plates loaded in their plan.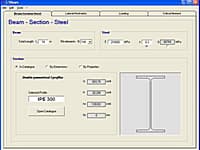 Lateral Torsional Buckling of Beams
LTBeam is a software which deals with the elastic Lateral Torsional Buckling of Beams under bending action about their major axis.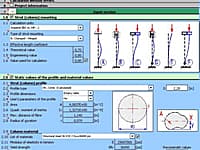 Calculation slender strut (column) buckling
MITCalc Buckling is designed to calculate the optimum cross-section and perform strength check of slender struts strained for buckling
PGSplice
Version:0.7 · Washington State Department of Transportation
Analysis Precast Girder Splice Alternatives
PGSplice is our spliced girder analysis software. This software has been developed for the Alternate Route Project.
Comments & Reviews
About CRANEWAY
No comments yet. Be the first to comment.
Submit a review using your Facebook ID