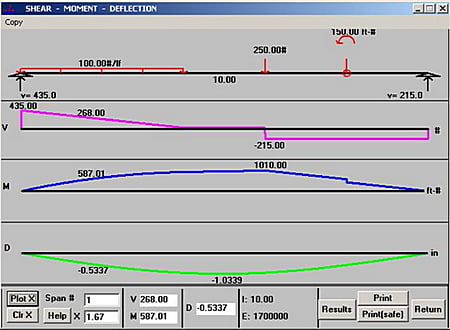 Last Update :
27 June 2015
Downloads :
UserDownloads:

1516
An easy to use continuous beam analysis program for the Microsoft Windows platform. This program can handle multiple span, and point, uniform, varying uniform and applied moments in the positive and negative direction. Other configurations are Cantilever left, right side or both sides and it also has a Hinge Option. This program is very simple to run. As one inputs the information the beam is drawn in real-time, this allows the user to visually view the input data. The output screen allows the user to add particular values to the plot and print them out. The results file has information associated with the analysis and shows the Max and Min shear, moment and deflection values and their locations on the beam.
This is a direct stiffness matrix analysis method. This method requires that the material be linear elastic so the principle of superposition can be used.   This principle is basic to the flexibility and stiffness methods of analysis. From this analysis I then derive the  shear, moment and deflection data for each member.
Except for the Beam Lengths being Fixed at 5.75, this Demo is Fully Functioning.
Similar Software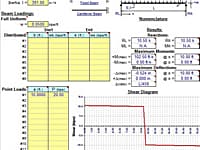 Single-Span & Continuous-Span Beam Analysis
BEAMANAL is a MS-Excel spreadsheet workbook for the analysis of single-span beams (simple, propped, fixed, or cantilever) and continuous beams of up to 5 spans.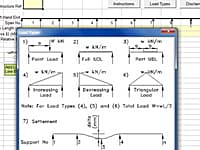 Analysis for Static Loads and Settlement at Supports
Calculates bending moments and shear forces for loads on a single span or continuous multi-span beam using the moment distribution method.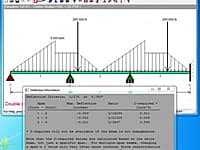 C-beam is a continuous beam software package that allows the user to solve statically indeterminate structures.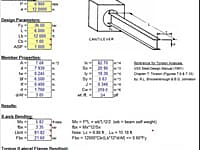 Simplified Torsion Analysis For Steel Beams
Quick and simplified torsion analysis of W, S, M, and HP steel beams.
GoBeam
Version:2015 · Yakov Polyakov
Continuous Beam Analysis for Excel
The easiest and most straight forward continuous beam analysis program available.
Comments & Reviews
About Beam Pro
No comments yet. Be the first to comment.
Submit a review using your Facebook ID