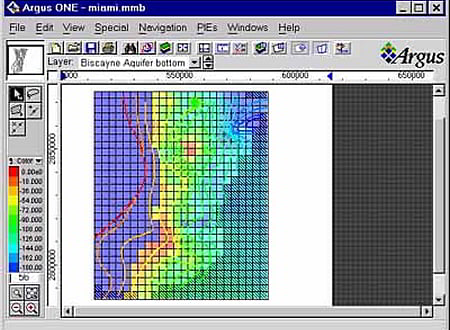 Last Update :
18 August 2013
Downloads :
UserDownloads:

358
Argus ONE is a family of general purpose graphical Pre- and Post-Processors for the numerical modeler. The Argus Open Numerical Environments (Argus ONE) enable you to easily and intuitively prepare your data for any modeling package, finite element as well as finite difference based. By automatically linking the physical data you enter in GIS layers to grid blocks or mesh nodes and elements, Argus ONE keeps your data reusable. Changing your mesh or grid doesn't require you to re-enter your data. It represent a whole new approach of combining GIS and numerical modeling. Argus ONE is used in three forms:
A generic environment for numerical modelers - Enabling the modeler to prepare and send data to any numerical model.
A specific integrated application - Using models which have been fully integrated with Argus ONE as PIEs.
An application development environment - Enabling model developers to create Graphical User Interfaces for their models.
Argus ONE is widely used by engineers, in the following fields:
Ground water modelers
Surface flow modelers
Environmental Development
Petroleum reservoir engineers
Oceanographical physicists
Coastal and marine engineers
Civil engineers
Mineral mining engineers
Some models are available as fully integrated Plug-In Extensions (PIEs) for Argus ONE: MODFLOW/MOC3D, HST3D, SUTRA, NAPL, LandUse Analyst, PTC  
Similar Software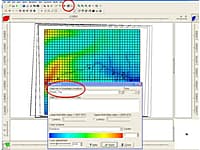 Graphical User Interface for MODFLOW, MT3DMS, SUTRA, PHAST, MODPATH, and ZONEBUDGET
ModelMuse is a graphical user interface for MODFLOW-2005, MODFLOW-LGR, MODFLOW-LGR2, MODFLOW-NWT, MODFLOW-CFP, MT3DMS, SUTRA, PHAST, MODPATH, and ZONEBUDGET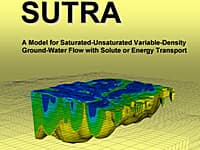 Model for Saturated-Unsaturated, Variable-Density Ground-Water Flow with Solute or Energy Transport
A model for 2D or 3D saturated-unsaturated, variable-density ground-water flow with solute or energy transport.
Steady and Nonsteady Flow in an Irregularly Shaped Flow System
MODFLOW-2005 (Harbaugh, 2005) simulates steady and nonsteady flow in an irregularly shaped flow system in which aquifer layers can be confined, unconfined, or a combination of confined and unconfined.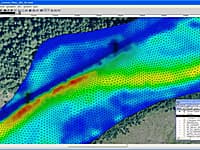 RiverFLO-2D is a hydrodynamic and mobile bed finite element model for rivers that provides high resolution flood hydraulics accounting for supercritical and subcritical regimes over dry or wet river beds.
HEC-RAS
Version:4.1 · Hydrologic Engineering Center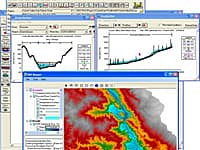 HEC-RAS is designed to perform one-dimensional hydraulic calculations for a full network of natural and constructed channels.
Comments & Reviews
About Argus ONE
No comments yet. Be the first to comment.
Submit a review using your Facebook ID